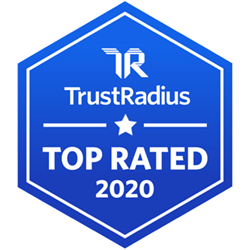 "Reviewers highlight how M-Files excels at combining document and metadata management into one platform, its modern interface, and its support for advanced automated workflows," said Megan Headley, VP of Research at TrustRadius.
AUSTIN, Texas (PRWEB) May 07, 2020
M-Files Corporation, the intelligent information management company, today announced that TrustRadius, the most trusted review site for business software based on feedback and ratings from end-users, has recognized M-Files as a Top Rated Enterprise Content Management (ECM) software. M-Files received one of the highest overall rankings, including top scores for product scalability (10.0) and likely to renew (10.0). The leading intelligent information management solution also achieved some of the highest ratings for performance, availability and online training.
"Buyers have a wide range of Enterprise Content Management systems from which to choose," said Megan Headley, VP of Research at TrustRadius. "M-Files earned its Top Rated award based entirely on feedback from its customers. Reviewers highlight how M-Files excels at combining document and metadata management into one platform, its modern interface, and its support for advanced automated workflows."
TrustRadius reviewers commended M-Files for its use of metadata to "make files easy to be found" and praised its versatility and integration with other applications like Microsoft Office 365. Citing M-Files as a "superb document management system," one reviewer described the platform as intuitive to use, while another recognized M-Files for its permission settings, quick searchable database and automated retention," and recommended the platform for companies "seeking ISO certifications or working towards [compliance] standards."
"TrustRadius reviews about M-Files are extremely valuable to the B2B decision maker, as users share how our intelligent information management platform is supporting critical operations across global organizations in a variety of industries," said Maria Carballosa, chief marketing officer at M-Files. "Our top-rated status is a result of the large volume of reviewers who strongly recommended our platform and conveyed their successful use of M-Files solutions for document, project and business process management, and to help meet regulatory compliance requirements."
The platform's use of metadata was frequently cited as a stand-out feature. One user shared, "The metadata driven approach is different than other systems and really takes the guesswork out of the equation for users. Nobody has to remember where something is stored, they only need to know what it is."
M-Files earned high scores for its "traceability and version control," with one reviewer noting "M-Files tracks each change to the document itself and to the metadata. This is important for audits and having the version history at your fingertips." The user also commended the solution for being "extremely customizable," allowing users to create their own views or common views for the whole company to view a group of documents."
Finally, end users praised the platform's ability to help their organizations meet and maintain regulatory compliance standards including ISO 9001 Quality Management System, ISO 14000 International Environmental Standards, ABNT Brazilian Association of Technical Standards, and others.
M-Files uses metadata to automatically index and organize documents by type, such as a contract or invoice, as well as by customer, project, case, and essentially any other property or characteristic important to the organization. This establishes relevance and context when accessing and managing information, whether it is stored in M-Files, or in other repositories and business systems.
With its Intelligent Metadata Layer (IML), M-Files delivers a simple, unified experience powered by artificial intelligence (AI) for finding, accessing and managing information stored not only within M-Files, but also within other systems and storage locations in the cloud or on-premises, including network file shares, SharePoint, Salesforce, OneDrive for Business, Box, Dropbox, OpenText, Amazon S3 and others.
M-Files offers AI-powered information management solutions for Microsoft Office 365, providing out-of-the-box document management, compliance and governance features, all seamlessly integrated with the familiar Office 365 applications. From directly within Microsoft Teams, SharePoint Online and Outlook, M-Files offers users direct access to enterprise data stored in a variety of external repositories and line-of-business applications, including on-premises file shares, file sharing services, legacy ECM systems, and CRM and ERP applications, without needing to migrate data.
*Every reviewer on TrustRadius is authenticated, and each review is vetted by the research team before publication. TrustRadius also ensures that product scores represent true customer sentiment by correcting for selection bias.
About M-Files Corporation
M-Files provides a next-generation intelligent information management platform that improves business performance by helping people find and use information more effectively. Unlike traditional enterprise content management (ECM) systems or content services platforms, M-Files unifies systems, data and content across the organization without disturbing existing systems and processes or requiring data migration. Using artificial intelligence (AI) technologies in its unique Intelligent Metadata Layer, M-Files breaks down silos by delivering an in-context experience for accessing and leveraging information that resides in any system and repository, including network folders, SharePoint, file sharing services, ECM systems, CRM, ERP and other business systems and repositories. Thousands of organizations in more than 100 countries use M-Files for managing their business information and processes, including NBC Universal, OMV, Valmet, Rovio, SAS Institute and thyssenkrupp. For more information, visit http://www.m-files.com.
M-Files is a registered trademark of M-Files Corporation. All other registered trademarks belong to their respective owners.
Media Contact:
Debra Dekelbaum, Senior Manager, US PR, debra.dekelbaum@m-files.com,
+1 (972) 516-4210 ext. 272