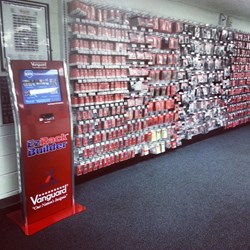 MCSS customers now have either a free resource right there in the MCSS to configure their racks on their own or purchase racks constructed entirely of Vanguard products at an awesome in-store discount.
MacDill Air Force Base, Fla. (PRWEB) September 12, 2013
Custom, ready-to-wear military medal and ribbon "racks" were introduced back into the MacDill Air Force Base Military Clothing Sales Store's product offering, here, today, in the form of a new state-of-the-art self-service touch screen computer kiosk installed on base as part of a new contract between The Exchange and Vanguard Industries.
The bright Vanguard-red "EzRackbuilder" kiosk, located at the MCSS on Boulevard, is actually the forty-third in a much larger national rollout. This rollout includes placement of 50 of these kiosks at 47 CONUS locations.
The machine allows customers to build virtual military medal and ribbon racks on its computer touchscreen using the popular EzRackbuilder software program. Customers enter their award information and the EzRackbuilder places all of the medals and ribbons in perfect order of precedence on its screen in addition to precisely affixing all of the attachments and devices to those awards according to the user's branch of service regulations.
Customers can then actually order the ready-to-wear product with a personal credit card – at a special in-store, 10 percent discount. Orders drop ship within hours – either the same day or the next business day – direct to the customer from a West coast production facility outside of Portland, Ore.
"Military medal and ribbon racks are one of those custom products that are basically impossible to package and put on a wall in the store," said Vanguard Industries Chief Operating Officer, Michael Harrison.
Vanguard, headquartered in Carlsbad, Calif., is a major uniform paraphernalia and insignia supplier that's been a mainstay in MCSSs for decades and in business for nearly a century.
"We're solving that issue with technology, and getting these relevant products back into the MCSS where they belong," said Harrison.
Those products, known as "racks" – military slang for the military ribbons and medals configured and typically worn on dress uniforms above the individual's left pocket – are highly unique.
Each rack is comprised entirely of an individual's own individual, campaign, and unit awards, encapsulating, in a sense, each veteran's own career. For that reason, no two are alike – hence the challenge of simply carrying them in a finished state on the MCSS shelves.
Enter the EzRackbuilder, a custom-built, state-of-the-art software program designed to reduce the awards sections of all five branches of service down to a simple, user-friendly program where with just a few selections on the screen, that individual's rack is constructed and priced for fast ordering. Finished products are delivered direct to the customer, ready to pin on their uniform.
"Essentially, the EzRackbuilder program is foolproof," said USAMM President of Business Operations, Jared Zabaldo. USAMM, out of Milwaukie, Ore., is Vanguard's order fulfillment partner and the EzRackbuilder developer.
"It was written to be unbelievably user-friendly with the goal in mind that we had to make weeding through the awards sections of AR 670-1 or AFI 36-293, etc., an obsolete task," said Zabaldo.
"And for all intents and purposes it is," said Zabaldo. "MCSS customers now have either a free resource right there in the MCSS to configure their racks on their own or purchase racks constructed entirely of Vanguard products at a an awesome in-store discount."
"As a former Soldier, I can tell you that there's no better product quality guarantee you'll ever get than that," said Zabaldo.
Customers can choose any rack configuration including standard and anodized metal finishes for full size military medals and miniature medals, as well as standard ribbon racks and the so-called "thin" ribbon. Orders are instantly conveyed into the Vanguard order-fulfillment system, in partnership with USAMM, and instantly enter production.
As part of the contract, The Exchange requires 100 percent of all orders to ship within 24 business hours.
The remaining kiosks are slated for installation through the year with additional locations potentially added beyond the initial 50 locations in the coming months.
About USA Military Medals:
USA Military Medals (http://www.usamilitarymedals.com/) is an internet-based company formed in 2005, carrying more than 13,000 dress uniform products in stock and specializing in custom military medal and military ribbon rack production with their state-of-the-art rack builder. USA Military Medals also operates a brick and mortar store servicing local military personnel and veterans.