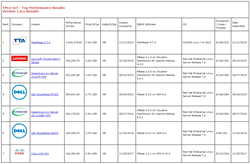 "These results demonstrate without a doubt that MachBase's unique columnar time-series architecture was the correct approach for big data tables that need to be processed quickly." Andrew Kim, MachBase founder and CEO
SAN JOSE, Calif. (PRWEB) November 20, 2019
MachBase, the time-series database for edge-computing platforms, set a new bar in the TPCx-IoT rankings, besting all competitors, and breaking the one million processing speed barrier, with its 1,042,276 records per second score. TPCx-IoT is the recognized industry standard for independently testing top databases against specific speed benchmarks. MachBase outperformed its nearest competitor, the previous record-holder by over 300,000 records per second, and a 40% improvement for MachBase over its last published results. MachBase achieved these performance numbers on a gateway running CentOS Linux on six (6) processors with 108 cores and 216 threads.
"I'm so proud of our engineering team for building a world-class software platform that can compete with the biggest companies out there, and hold our own among the likes of HP, IBM, Microsoft, and others," said Andrew Kim, founder and CEO of MachBase. "These results demonstrate without a doubt that MachBase's unique columnar time-series architecture was the correct approach for big data tables that need to be processed quickly."
TPC is a non-profit Silicon Valley company established to define transaction processing criteria and database benchmarks, and to publish objective, verifiable TPC performance data for the industry. In addition to MachBase, TPC members include: AMD, Cisco, Dell, Fujitsu, HP, Hitachi, Huawei, IBM, Intel, Lenovo, Microsoft, Oracle, Redhat, TTA, and VMware.
"While we always believed we could compete on the big stage as the fastest database, it's very gratifying to now point to these results that firmly establish MachBase as the fastest time-series database for IoT," said Joseph Rothman, COO of MachBase. "We look forward to taking this exciting news to our strategic partners, and prospective customers who can benefit from MachBase's unmatched performance and integral to their edge computing solutions. We now compete at the highest level with the biggest names in the industry."
About TPCx-IoT
TPCx-IoT, is the industry's first benchmark which enables direct comparison of different software and hardware solutions for IoT gateways. Positioned between edge architecture and the back-end data center, gateway systems perform functions such as data aggregation, real-time analytics and persistent storage. TPCx-IoT was specifically designed to provide verifiable performance, price-performance and availability metrics for commercially available systems that typically ingest massive amounts of data from large numbers of devices, while running real-time analytic queries. The workload is representative of activities typical in IoT gateway systems, running on commercially available hardware and software platforms. The TPCx-IoT can be used to assess a broad range of system topologies and implementation methodologies in a technically rigorous and directly comparable, in a vendor-neutral manner.
About MachBase
MachBase, the database for edge managed platforms, is a columnar DBMS tailored to process machine data, the time series log data generated from the machines comprising the IT infrastructure in the era of the Internet of Things (IoT), such as servers, network devices, and applications. Founded in 2013 by veteran database architects, MachBase has developed an innovative DBMS solution with technology for maximizing data insertion. Its ability to process, store, and query data at unmatched speeds from a minimum of 200,000 data per second to a maximum of 2,000,000 data per second is significantly faster than any currently available DBMS solution. MachBase is headquartered in Seoul, South Korea, and has offices in San Jose, CA.