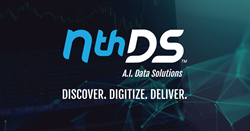 We're innovating first to market solutions that make it impractical to continue to use the legacy methods
HOUSTON (PRWEB) September 26, 2019
NthDS, an A.I. Business Solutions company, will become an inaugural recipient of a Houston Business Journal's Innovation Award this week. Founded in 2018, NthDS revolutionized oil and gas data management with a powerful new A.I. software that saves organizations unprecedented time and labor costs by digitizing well log data and other records in the blink of an eye.
New for 2019, HBJ's Innovation Awards recognize companies large and small using innovative methods and concepts to show measurable growth. NthDS's award will be presented at a luncheon at the Marriott Marquis Houston on Thursday honoring the city's best new companies.
"We're very proud to be recognized by a respected institution like HBJ for the groundbreaking work we're doing," said NthDS CEO Michael Ramirez. "We're innovating first to market solutions that make it impractical to continue to use the legacy methods."
Manual data entry is slow, expensive, and impractical, making hundreds of thousands of historical records obsolete and useless. NthDS's innovative Nspect solution uses artificial intelligence to instantly scan all kinds of records, from printouts to typed pages to handwritten notes. No matter how old, no matter how damaged, and no matter how illegible, Nspect can add any records—including well log data—into a client's database of choice, saving weeks of work and tens of thousands of dollars in labor costs over manual recovery.
To learn more about how Nspect saves organizations time and money while improving data-entry accuracy, please visit NthDS.com.
About NthDS
NthDS created our revolutionary Nspect software to automate the data entry process, dramatically reducing labor, costs, and errors associated with the manual data entry of oil and gas records such as well logs. This incredible A.I. breakthrough makes project managers look like miracle workers. For a free consultation on how Nspect can revolutionize your data entry projects, please visit NthDS.com.