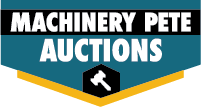 Equipment sellers have been looking for a new online auction marketplace option for selling used equipment.
CHICAGO (PRWEB) June 30, 2021
MachineryPete.com, the fastest-growing used farm equipment marketplace, announced the company is expanding its position in the used equipment market and is launching Machinery Pete Auctions. This new venture will be launched in partnership with BigIron Auctions, rural America's premier unreserved online auction service provider. Machinery Pete Auctions will host monthly online, timed, no reserve, no buyer's fee auctions, offering dealers and private auction companies a new auction sales channel for used farm equipment. Sellers will manage the listing details and fund collection on their equipment, while Machinery Pete will support sellers with their unmatched marketing ability.
Machinery Pete Auctions is bringing a new alternative to the online auctions available in the market today. With 1.3 million in-market equipment shoppers visiting MachineryPete.com monthly and BigIron's deep expertise in the rural auction space, Machinery Pete Auctions will provide bidders with a broad base of equipment and ensure market prices for the seller's equipment.
"Equipment sellers have been looking for a new online auction marketplace option for selling used equipment," said Kevin Doyle, CEO of MachineryPete.com. "Leveraging both company's ability to promote seller items and drive bidders will far exceed industry expectations. I can't wait for our customers to experience Machinery Pete Auctions."
"Partnering with Machinery Pete Auctions was a natural evolution in the growth of our business," said BigIron Auctions' Co-CEO, Mark Stock. "BigIron has long been a leader in providing sellers with the benefits of a full-service auction. With the advent of Machinery Pete Auctions, we now have the ability to offer dealers a self-service alternative to consigning their equipment."
The first Machinery Pete Auction is slated for August 17, 2021. In support of all Machinery Pete Auctions, the company will launch a massive, multi-platform advertising campaign with strong promotion on the MachineryPete.com website and social media networks, email programs, retargeting campaigns, display ads across relevant websites, ongoing promotions and special editorial segments on TV and radio shows including, "Machinery Pete TV" , "AgriTalk," "AgriTalk After the Bell", "AGDay", "U.S. Farm Report", "American Countryside", and a full page print ad in Farm Journal magazine.
"I am beyond excited about Machinery Pete Auctions," said Greg Peterson, aka Machinery Pete. "We are changing the game for sellers, powerfully marketing in unprecedented ways the auction event itself and also every piece of equipment on the sale to our very large and growing online audience of shoppers. More exciting news to come soon...stay tuned."
To participate in Machinery Pete Auctions please contact: customersupport@machinerypete.com or 844-727-6374.
About MachineryPete.com
MachineryPete.com is the fastest growing marketplace for buyers and sellers of used farm equipment offering farmers a vast selection of equipment listings in one place with innovative search tools that make it easy and fast to find relevant equipment.
Founded in 1989 by Greg Peterson, Machinery Pete has come a long way since its beginnings in Greg Peterson's home office in Rochester, Minnesota where he passionately researched, tracked, and reported on auction prices. In 2014 Farm Journal and Machinery Pete partnered to provide a more efficient marketplace for buying and selling used ag equipment.
In July of 2015, MachineryPete.com launched its marketplace with leading edge marketing solutions for dealers, informed and built with the online equipment shopper in mind and creates meaningful connections between buyers and sellers. The company is headquartered in Chicago, IL.