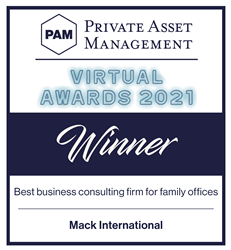 "We help our clients execute their strategic vision by delivering exceptional counsel regarding their human capital needs. Our mission is to unquestionably be our clients' most valued advisor"
CHICAGO (PRWEB) March 03, 2021
Private Asset Management magazine (PAM) announced Mack International the winner of the 2021 "Best Business Consulting Firm for Family Offices" in a virtual award ceremony February 10th. For over two decades Private Asset Management awards have celebrated the top-performing elite in the community by recognizing the "best of the best" professionals. The annual event rewards excellence and originality for firms dedicated to private asset management.
Often regarded as the "Oscars" of the U.S. private asset management industry, the PAM Awards have provided a platform for over two decades honoring top investment professionals, wealth advisors, legal firms, consultants, and other key service providers operating within the sector, to showcase their incredible achievements. The judging process is based upon a mixture of qualitative and quantitative performance indicators including financial progress, growth, client satisfaction and product innovation.
Mack International has been recognized for each of the last 10 years as a finalist in the category of Best Business Consulting Firm for Family Offices. This year they were declared the winner. "We are thrilled to receive this significant award from Private Asset Management," said Linda Mack, founder and president of Mack International. "Our team works tirelessly to deliver exceptional consulting to our clients enabling them to successfully achieve their goals and objectives and sustain their families, enterprises and legacies into future generations. We want to take this moment to express appreciation to our clients, colleagues and friends for the confidence they continue to place in us."
The firm owes their track record of success to their dedication to provide customized consulting solutions that meet the unique needs of their clients. Linda explains, "Our consulting goes beyond the "search" to include strategic planning, organization design/structure, succession, governance, onboarding, performance management, executive compensation and retention strategies for C-suite executives. We help our clients execute their strategic vision by delivering exceptional counsel regarding their human capital needs. Our mission is to unquestionably be our clients' most valued advisor"
Mack describes her relationship with her clients as "intensely personal." "Our approach enables families to anticipate and prepare for leadership and generational transitions as well as establish effective governance, succession, and address other critical aspects to ensure long term success and sustainability." Linda is involved in every consulting engagement from start to finish. The dedicated Mack team collectively brings more than 60 years' experience in the family office/wealth management industry to each assignment. "We are proud to have been chosen among other outstanding firms. It is truly an honor. We look forward to congratulating our colleagues and celebrating in person soon."
About Mack International LLC
Mack International is the premier, a boutique retained executive search and strategic management/human capital consulting firm serving national and international clients in the family office, family business enterprise and the wealth management industries on a national and international basis. Founded in 2002, the firm has achieved an exceptional track record of success as evidenced by its unmatched industry expertise, in-depth market knowledge and unparalleled track record of success. Founder and President, Linda C. Mack has established proprietary methodologies such as the Mack 360© and is credited for having coined the term "expert generalist" in the industry.
About Private Asset Management Magazine
Private Asset Management (PAM) Magazine – the industry publication that exclusively covers the wealth management and family office industry – brings to readers actionable information regarding best business practices, investment management and trust services. It incorporates breaking industry news, people moves, in-depth trend articles and profiles on top multi and single-family offices and wealth management firms. In conjunction with PAM's monthly breakfast briefings, the magazine advises, educates and fosters a sense of community and peer-to-peer networking opportunities. PAM's readership includes family offices, private bankers, money managers, high-net-worth units, hedge fund managers, consultants, concierge firms, lawyers and accountants. PAM is published by Pageant Media, a leading provider of business information and insight.