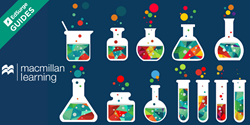 Community colleges are an integral part of the educational landscape, and identifying ways to better support 2-year students, is vital to our growth as a connected and ever-evolving society. --Ken Michaels, CEO, Macmillan Learning
NEW YORK (PRWEB) October 17, 2018
Macmillan Learning, a premier educational solutions and insights provider and EdSurge, a news media and research company that delivers insights to and connects those exploring how technology can support equitable opportunities for all learners, announced the release of the study, Measuring Up: How Community Colleges Define, Measure and Support Student Success, which explores institutional and educational policy considerations that drive student student success initiatives as well as current state usage of student success solutions at community colleges across the United States.
The EdSurge research team conducted a mixed-method study that included a survey, interviews, and case studies to identify themes across responding institutions. "Understanding – and supporting–students succeeding in community college is critically important," said Betsy Corcoran, EdSurge CEO. "Our research points to the key idea that 'success' for community college students is more nuanced than just earning a degree. That means we have to be thoughtful about how we measure success and especially how we support students."
The report reveals some surprising insights about community college student success programs, and seeks to uncover the diversity of indicators that point to success. Additionally, the research illuminates the role technology plays as administrators and faculty track the progress towards completion for students. "Community colleges are an integral part of the educational landscape, and identifying ways to better support 2-year students, is vital to our growth as a connected and ever-evolving society," stated Macmillan Learning CEO, Ken Michaels. "At Macmillan Learning, we take our mission of improving lives through learning very seriously. We are delighted that EdSurge's research shines a light on how community colleges define and plan for student success, as well as how stakeholders can help community colleges achieve desired student outcomes."
To learn more about the EdSurge research report Measuring Up: How Community Colleges Define, Measure and Support Student Success, please visit: http://bit.ly/commcollegemeasuringup.
About Macmillan Learning:
Macmillan Learning improves lives through learning. Our legacy of excellence in education informs our approach to using user-centered design, learning science, and impact research to develop world-class content and pioneering products that are empathetic, highly effective, and drive improved outcomes. Through deep partnership with the world's best researchers, educators, administrators, and developers, we facilitate teaching and learning opportunities that spark student engagement and improve outcomes. We provide educators with tailored solutions designed to inspire curiosity and measure progress. Our commitment to teaching and discovery upholds our mission to improve lives through learning. To learn more, please visit our website or see us on Facebook, Twitter, LinkedIN or join our Macmillan Community.
About EdSurge:
Founded in 2011, EdSurge is a news and information resource that covers the rapidly changing world of education technology and connects the builders and users of edtech. We aim to help everyone understand how and when technology can best support learning, from kindergarten through postsecondary education. We do this by publishing rich content supported by research and reporting and providing educators, entrepreneurs and organizations with information to make decisions, inform practices and build bridges of communication between communities to support teaching and learning. To learn more, visit http://www.edsurge.com or join us on Facebook and Twitter.