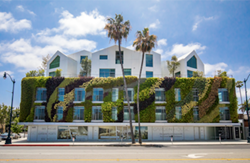 Gardenhouse represents a unique opportunity to impact not only the architecture of Los Angeles but to introduce a new paradigm of living on the West Coast where humans are more emotionally connected to nature, particularly in high-density cities like Los Angeles
BEVERLY HILLS, Calif. (PRWEB) August 12, 2020
Gardenhouse, the first project in the United States from internationally acclaimed Ma Yansong of MAD Architects, has reached a significant new milestone with the completion of the building. Comprised of a refined collection of residences with interiors by Rottet Studio, Gardenhouse transforms the Beverly Hills streetscape with the largest living art wall in the country, serving as a new visual landmark along the historic Wilshire Boulevard. Six model residences are now on display for prospective residents to tour by appointment only.
"Today marks an important day at Gardenhouse as we officially launch sales of these unique residences and introduce Ma Yansong's striking vision to redefine what it means to live in Beverly Hills," said Don Heller, Principal of Don Heller Group at Compass, the exclusive sales partner for Gardenhouse. "Residents will enjoy a living piece of art that connects them to nature in an architecturally-significant way, with unparalleled access to the very best of the city, including access to Beverly Hills' highly regarded dining, retail and wellness offerings."
Gardenhouse is emblematic of MAD Architects' "Shanshui City" design philosophy to create cities of the future that fulfill the spiritual and emotional needs of its inhabitants. MAD Architect's buildings around the world, including Gardenhouse and the highly anticipated Lucas Museum for Narrative Art in Los Angeles, embrace the notion that architecture can create a harmonious connection between humans and nature.
"Gardenhouse represents a unique opportunity to impact not only the architecture of Los Angeles but to introduce a new paradigm of living on the West Coast where humans are more emotionally connected to nature, particularly in high-density cities like Los Angeles," said Ma Yansong, Founder and Principal Partner, MAD Architects. "We are elated to see Gardenhouse reach completion and hope that future residents will appreciate the conveniences of living in harmony with nature."
Gardenhouse garners significant inspiration from its location in Beverly Hills, a city known for its allure and sophistication, where pitched roofs peek above manicured hedges and stately homes lie within dramatic, unexpected gardens. Gardenhouse is a tribute to the elegance of Beverly Hills, reflecting its essence in a modern, contemporary form.
With seamless transitions between indoors and out, residents of Gardenhouse will enjoy expansive, open-concept floor plans with towering window walls and private outdoor living spaces. Chef-caliber kitchens are equipped with Miele appliances and Italian cabinetry and master bathrooms feature Japanese onsen-style wet rooms with free-standing tubs and radiant heated floors. Each home features direct lift access to a private foyer from the lobby and subterranean parking garage.
The private driveway and covered motor court create a discreet sense of arrival to the building. The lobby, which opens to the sky, surrounds a reflecting pool and leads to the private residences above. The interiors, envisioned by international architecture and design firm Rottet Studio, evoke the spirit of California living and residential modernism with gallery-like spaces, both intimate and grand.
"It was important to create interiors that complement the outdoor spaces, allowing light to be captured in a way that feels expansive, bright, and connected to its surroundings," said Richard Riveire, Principal of Rottet Studio. "The interior finishes pay tribute to the California heritage of woodworking and high-end design in a way that is intimate in feel and lavish in tone."
Gruen Associates, who served as both the executive architect and landscape architect for Gardenhouse, worked closely with the designers to bring this architectural vision to life.
Gardenhouse offers three distinct residential collections featuring unique three-bedroom layouts ranging from 2,100 to 3,100 square feet, all of which provide the space and privacy of a custom home while offering the benefits of an intimate residential community. With understated details within the spacious layouts, from custom Italian millwork, soapstone powder room sinks and white oak and stone floors, each residence delivers style and sophistication.
"An extraordinary vision has been realized as we open the doors at Gardenhouse and showcase the incredible work of MAD Architects, Rottet Studio and Gruen Associates," said Ken Simpson, Vice President at Palisades, the developer of Gardenhouse. "The world-class architecture and interiors at Gardenhouse offers residents a signature custom home with airy, contemporary design that offers the perfect backdrop for a serene way of life that has never been available in the heart of the city before."
Garden Flat Collection
The Garden Flats are centered around the outdoor living experience, with a thoughtful balance between vast windows and gallery walls suitable for an extensive art collection. With up to 2,500 square feet of living space, these three-bedroom residences are configured generously on a single level with ample space for dining and entertaining. The interiors transition effortlessly onto private balconies and terraces, which connect to the interior courtyard.
Row House Collection
An exclusive trio of residences on Charleville Boulevard, the Row House Collection features three-story floor plans of up to 3,100 square feet and private three-car garages directly accessed from each residence's private lift. Adding to the level of luxury are spacious private full-floor master suites, fireplaces, powder rooms, formal and informal living spaces and upper-level great rooms with chef's kitchens and walk-in pantries. Showcasing a seamless indoor-outdoor design, the Row Houses provide a variety of outdoor living spaces, including terraces and balconies and landscaped front entries on Charleville Boulevard.
Sky Villa Collection
Perched on the upper levels of Gardenhouse, the Sky Villas boast abundant natural light, beautiful gathering spaces, and expansive views across the city. Each of these two-story, three-bedroom residences feature soaring ceiling heights, floor-to-ceiling windows, and custom-designed sculptural staircases connecting lower and upper floors. The Sky Villas are appointed with spacious interior living spaces of up to 2,900 square feet that open to generous outdoor living areas and private terraces. The exteriors, clad in a stunning architectural façade of aluminum composite panels, reinterpret the classical proportions of each residence in a contemporary aesthetic.
Available residences at Gardenhouse are priced from approximately $3.8 million. Compass is the exclusive sales and marketing agent for Gardenhouse. For more information, please visit http://www.gardenhousebh.com or contact sales@gardenhousebh.com or 424-265-4941 to schedule a private viewing.
###
About Palisades:
Palisades is committed to an original, design-led approach to crafting expressive and sustainable models of urban living. Based in Los Angeles, the firm brings local expertise, global perspective and a passion for craftsmanship to create built environments in collaboration with notable designers, trusted partners and an engaged community.
About MAD Architects:
Founded by Chinese architect Ma Yansong, MAD Architects is a global architecture firm committed to developing futuristic, organic, technologically advanced designs that embody a contemporary interpretation of the Eastern affinity for nature. With its core design philosophy of Shanshui City – a vision for the city of the future based in the spiritual and emotional needs of residents – MAD endeavors to create a balance between humanity, the city, and the environment. MAD has been commissioned by clients of various backgrounds for design in urban planning, urban complex, museum, theatre, social residence, old neighborhood renovation, and artworks. With international projects in Rome, Paris, Japan and Los Angeles, MAD continues to be a pioneer in contemporary art and design.
Rottet Studio
Rottet Studio is an international architecture and design firm that is led by founding principal and president Lauren Rottet, alongside founding principals David Davis, and Richard Riveire. Rottet Studio has an extensive portfolio of corporate clients including The New York Stock Exchange, United Talent Agency, The Walt Disney Company and Target Corporation, Northwestern Mutual and Comcast; hospitality clients including the iconic Beverly Hills Hotel, New York City's The Surrey and Loews Regency, Langham Hotels, the St. Regis Aspen Resort, Viking Cruises, and impressive private residences around the country. Additionally, the firm's furniture line, Rottet Collection, features a selection of contemporary home furnishings that are in line with the innovative aesthetic for which the studio is known. Rottet Studio has offices in Houston, Los Angeles and New York.
About Gruen Associates:
Gruen Associates is one of Los Angeles' best known legacy architecture firms that can boast a portfolio of landmark projects spanning nearly 70 years. Building on the trailblazing success of founder Victor Gruen; since the beginning, their landmark buildings enhance the urban landscape, and shape the environment for millions of users.
###
MEDIA CONTACT
Michael Altneu I Brandon Muratalla
Murphy O'Brien Public Relations
palisades@murphyobrien.com
310.586.7180