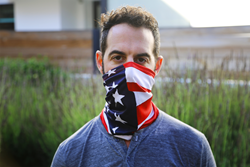 LOS ANGELES (PRWEB) September 23, 2020
Gaiter King's original mission was to create apparel that met the unique needs of outdoor enthusiasts and workers in the construction, trucking, and logistics industries. But not long after the world was struck by the devastating COVID-19 pandemic, the company soon found that its face masks and neck gaiters were serving another purpose never originally envisioned: Helping people stay safe in these uncertain times.
As the coronavirus pandemic spread across the world, face mask protection options gained their fair share of controversy. Initially, public health officials dismissed any need for them. But the U.S. Centers for Disease Control and Prevention (CDC) now consider face mask protection to be a "critical preventive measure."
Neck gaiters were no exception to scrutiny. Intended to showcase an inexpensive method to test face mask protection efficacy with lasers and phone cameras, a study from Duke University suggested that neck gaiters allowed more airborne particles to spew through its fabric. Although the research study only used one type of neck gaiter that was purposely lightweight and thin for "extra breathability," waves of alarmist media outlets latched onto this hypothesis and ran headlines claiming that wearing neck gaiters could actually be worse than wearing no mask at all.
Since Duke University's findings were published, several reputable news sources such as The New York Times, The Washington Post, and USA Today and many leading researchers have all come to the defense of neck gaiters. One of them was even a leading researcher in Duke University's study.
"Our intent was for this technology to get out there so companies and organizations can test their own masks," explains Dr. Martin Fischer, a Duke University Chemistry associate research professor and co-author of the study. "Our intent was not to say this mask doesn't work, or never use neck gaiters. This was not the main part of the paper... It was not a systematic study of masks... Seeing the media somewhat misquote and misinterpret the data was a big downer."
Dr. Linsey Marr, a professor of environmental engineering who studies aerosols at Virginia Tech, a leading authority on this subject, even evaluated two types of neck gaiters on her own using mask testing methods similar to those of the National Institute for Occupational Safety and Health. She found that a single-layer gaiter folded to become two-ply was effective at blocking more than 90% of particles.
Gaiter King's founding members are well-aware of the controversy that neck gaiters inadvertently garnered from the Duke University Study. But they aren't concerned. All of Gaiter King's products are made with high-quality material specifically designed to combat the shortcomings of a thin fabric gaiter. They can also become two-ply just by folding them down.
There are also several great reasons why Gaiter King is trusted by industry professionals in agriculture, construction, logistics, and more. The company's neck gaiters and face masks are moisture-wicking to keep users cool and dry. And with UPF 50 protection, they block more than 97% of the sun's rays. Perhaps best of all, each Gaiter King product is infused with a copper and silver anti-microbial treatment.
It's no secret that the coronavirus pandemic has hit the United States particularly hard. For Gaiter King's founding members, it's imperative that the company helps America in as many ways as it can. That's why all Gaiter King products are 100% American-made. Every part of the company's supply chain, from yarn sourcing to cutting, printing, and sewing, is done in America by U.S. workers with American materials. "You may not care about where your product comes from, but we do," founder Jon Dadon explains.
There's no telling when COVID-19 will stop being a threat to humanity. But with ambitious companies like Gaiter King who are willing to adapt to these turbulent times, one can't help but feel hopeful that a brighter future isn't too far away.
Established in Southern California, Gaiter King was founded by a group of outdoor enthusiasts who create functional, fashionable, and durable apparel for nature lovers and working professionals across the agricultural, construction, logistics, and energy industries. All of Gaiter King's face masks and neck gaiters are 100% made in the U.S.A. by the hands of skilled American workers.