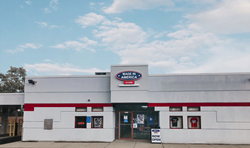 "Business plans have to adapt to seismic changes in the market," Andol began. "The decision to reduce our presence in shopping malls was entirely premised on changes in consumer spending..."
DEPEW, N.Y. (PRWEB) October 05, 2020
"Centrally located in Buffalo Niagara, new freestanding site responds to community's demand for quality 100% American Made Products"
With a ribbon cutting at 2:00 pm on Wednesday, October 7, 2020, Mark Andol – founder and CEO of Made in America Store and General Welding & Fabricating of Elma, NY – is writing a new chapter in the All-American story about the largest retailer of its kind in the U.S. Andol marked the flagship store's 10th anniversary earlier this year.
"Business plans have to adapt to seismic changes in the market," Andol began. "The decision to reduce our presence in shopping malls was entirely premised on changes in consumer spending," Andol began.
Made in America Store now has two freestanding brick & mortar locations, as well as one seasonal location in Niagara Falls, and one mall location – McKinley Mall. The store's One Niagara location (2nd floor) flourished once businesses re-opened early summer. Niagara Falls' boom in domestic visitors helped curtail the loss of international visitation due to border closures.
"This year, so many New Yorkers traveled within the state for 'staycations', re-discovering places closer to home and sharing them with their families," Andol continued. "We have found hospitality venues such as restaurants and hotels, and attractions like ours, doing everything in their power to create a safe visitor's experience in this challenging time of COVID-19."
"COVID-19 prompted an even greater consumer shift to on-line shopping. Our e-commerce site, http://www.madeinamericastore.com, continues to do well in this challenging environment," Andol added. "But many consumers prefer to see and touch an item of clothing or product before buying. It is for these shoppers – initially local shoppers but gradually including tourists from other states when tour buses return – that we will maintain brick & mortar sites in Western New York."
Andol noted that another byproduct of the COVID crisis is wider public recognition of how much corporate outsourcing of manufacturing overseas – especially to China – has short-changed Americans.
"People could not believe how many medical products were imported, and how competitive and costly it was to secure the lifesaving pharmaceuticals, diagnostic and treatment equipment needed to combat COVID," Andol stated. "We need to bring healthcare manufacturing back to the United States."
Located at 6041 Transit Road, the Depew store's hours will be Mon. – Sat., 10 a.m. – 8 p.m., and Sundays from 10 a.m. – 5 p.m. The new store is located just five minutes from Buffalo Airport and 30 minutes from Niagara Falls. Shoppers will enjoy a 10% discount at the Depew Store during Grand Opening Week or on-line at http://www.madeinamericastore.com with coupon code "Depew2020", from Sun. Oct. 4 – Sun. Oct. 11 at midnight.