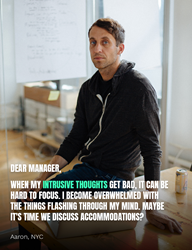 Throughout May, the nonprofit will invest in on and offline initiatives that highlight the global need for more supportive work environments, and uplift stories from everyday people who are living with diagnosed conditions.
NEW YORK (PRWEB) May 03, 2019
Made of Millions Foundation, a mental health advocacy nonprofit based in New York City, today announced their May #DearManager campaign that focuses on workplace mental health, in support of Mental Health Awareness Month. Throughout May, the nonprofit will invest in on and offline initiatives that highlight the global need for more supportive work environments, and uplift stories from everyday people who are living with diagnosed conditions.
The campaign comes on the heels of their February 2019 launch of Beautiful Brains: A Mental Health Manual for the Modern Workforce, which offers companies a comprehensive framework for implementing progressive mental health policies. The six-step program covers a wide range of internal initiatives, including accommodation plans, employee confidentiality, wellness programming, and shareable social assets, questionnaires and worksheets.
To facilitate face-to-face conversation on the topic, the foundation will host an event in Toronto and in New York that will bring together brand representations, nonprofit leaders and everyday employees:
Wednesday, May 8, 5:30 - 9:00 p.m. ET (Toronto): A Candid Conversation about Workplace Mental Health at Shopify - 80 Spadina Avenue, Suite 400
Join Made of Millions, Shopify, and other leading brands for a candid conversation about mental health at work - asking Canadian companies to get real about the challenges their employees face, and the role they as a business can play in providing support. We'll also discuss the power of vulnerability, and the value that comes with sharing personal stories.
Tuesday, May 14, 6:00 - 9:00 p.m. ET (New York): Dear Manager: Let's Talk About Mental Health at Work at Bento On Hudson - 675 Hudson Street
Join Made of Millions, SheSays and Digital Dumbo for a conversation about workplace mental health. Brand and academic leaders will discuss how culture, technology, and policy can improve mental health, fuel creativity, combat stigma and reduce employee turnover.
Furthermore, they'll fuel online discussion with their #DearManager portrait series that bring real workplace mental health stories to life across a range of industries. They are calling on any NYC residents who are inspired by the campaign, to reach out and get involved by sharing their personal experiences.
Made of Millions Co-Founder Aaron Harvey, who is also Co-Founder at Ready Set Rocket, will be spreading their message at external events, such as the Mindshare Partners event Mental Health at Work Conference 2019: Catalyzing Culture Change in San Francisco, and a number of roundtables hosted by ThriveNYC.
"An estimated 40 million people in the U.S. labor force will experience a mental health condition. Despite the growing numbers, companies have failed to address the mental health crisis boiling under the surface," says Harvey. "That's why we're creating an employee-led movement to demand change. We want policy reform. We want employee education and training. And we want stigma-free work environments."
Started in 1949 by the Mental Health America organization, Mental Health Awareness Month is held every May in the U.S. to educate the public about mental health and draw attention to related issues like suicide, that can be prevented with access to the proper services and support. According to the Anxiety and Depressions Association of America, about 18% of Americans suffer from depression, schizophrenia, and bipolar disorder. The goal of Mental Health Awareness Month is to reduce the stigma — the negative attitudes and misconceptions that often surround mental health conditions.
About Made of Millions Foundation
Made of Millions Foundation is a global mental health advocacy nonprofit that leverages art, technology and digital community to fight stigma and barriers to care. Its award-winning campaigns and properties, including IntrusiveThoughts.org, Pax the OCD Bot and MadeofMillions.com, reach over two million global sufferers each year. For more information, please visit http://www.madeofmillions.com
About Bento On Hudson
Bento on Hudson is a private membership community and intentionally designed environment to host and promote brands in the heart of the historic Meatpacking district. This is not a crowded co–working space or members club focused on status. We are a premiere brand activation space and experts in crafting experiences. For membership and private hire inquiries please contact aewert(at)bentobox.com. Bento on Hudson is a subsidiary company of Bento Box. Bento Box LLC is a collection of small footprint living companies that help people live more with less. Please email smallfootprint(at)bentobox.com for more information.