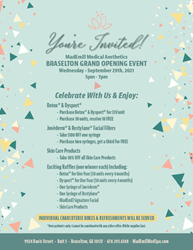 We could not be more excited about our growth
LAWRENCEVILLE, Ga. (PRWEB) September 07, 2021
MadEmEl Medical Aesthetics, one of Metro Atlanta's fastest growing medical spas, is proud to announce the opening of their new location in Braselton. This continues the practice's recent expansion that includes adding two new cosmetic injectors to their growing team of aesthetic professionals.
MadEmEl's newly opened second location is located at 9924 Davis Street, Unit 3, in Braselton. This new practice location will offer a wide array of cosmetic injectable treatments including Botox®, Dysport®, and facial filler treatments from top brands like Juvéderm®, Restylane®, and Sculptra® Aesthetic. Additionally, the new Braselton location offers a full selection of MadEmEl's signature skin care products. MadEmEl Braselton will provide the same level of hands-on care and professionalism that has made them such a favorite among their patients since they opened.
To help introduce their new Braselton location, MadEmEl will be hosting a Grand Opening Event on Wednesday, September 29th, from 5pm - 7pm. This grand opening event will offer guests in attendance exclusive chances to save on a wide variety of Cosmetic Injectable treatments, skin care products, and much more. MadEmEl's aesthetic experts and representatives from top cosmetic brands will be on-hand to provide complimentary consultations and advice. Additionally, there will be a series of raffles offering guests chances to win cosmetic prizes including a free year of Botox® and Dysport® injections, free skin care products, and more.
"We could not be more excited about our growth," says Kristine Gould, MD, MadEmEl Medical Aesthetics founder. "We are thrilled to be able to expand our practice with the help of some incredibly talented new cosmetic injectors. Our goal has always been to share our cosmetic and wellness services with as many people as possible and our move into the Braselton area will only help us come closer to achieving it."
About MadEmEl Medical Aesthetics
MadEmEl Medical Aesthetics is a full-service medical spa in Lawrenceville, GA specializing in advanced cosmetic treatments for the face and body. Owned and operated by Kristine Gould, MD, MadEmEl is focused on using cosmetic treatments and services to accentuate the overall health and wellness of their patients. MadEmEl offers a wide selection of FDA-approved skin care treatments and non-surgical anti-aging services including cosmetic injectable treatments, cosmetic laser treatments, chemical peels and facials, microneedling, CoolSculpting®, and much more. All treatments and services at MadEmEl are performed by licensed, certified, and experienced aestheticians, nurse practitioners, and medical assistants. They currently have two Atlanta area locations including their newest location in Braselton.
To learn more about the treatments at MadEmEl Medical Aesthetics or to schedule a complimentary consultation appointment at either of their locations, visit https://mademelmedspa.com or visit them in-person.