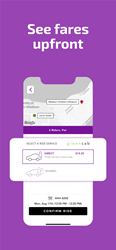 We believe the future of mobility is a shared ecosystem. And we believe taxicab providers are going to play a major role in this.
MADISON, Wis. (PRWEB) October 13, 2020
Madison-based entrepreneur Shree Kalluri has launched Mobile22, a transportation technology startup that connects taxi providers and riders in an "Uber-like" platform. Mobile22 is launched earlier this month in Madison with its first regional partner, Green Cab of Madison.
Prior to their partnership with Mobile22, Green Cab faced a number of challenges with their in-house software tools. "Our dispatch team often spent a lot of time during peak hours trying to get our cabs to our customers," says Ram Venkatesh, President of Green Cab. "And it became a challenge to give immediate fare estimates to customers. These issues added up, and it meant that we couldn't offer the high level customer experience we wanted to provide."
Mobile22 is solving these problems, and many others, for Green Cab. Its Automated Dispatch Engine now assists Green Cab's dispatch team by allocating bookings faster and with more accuracy. Its mobile and web apps now give instant fare estimates to riders before booking rides. Mobile22 now also enables Green Cab to streamline operations by managing their drivers and fleet in the cloud.
"Taxicab providers need new ideas and technology to thrive in the face of Uber and Lyft," says Venkatesh. "And now we can. Mobile22 has leveled the playing field for us, and allows us to compete. For us, it was an easy decision to make because Mobile22's provider tools are far better than anything else we've seen in the market."
Traditional taxi providers across the country have been slow to upgrade their technologies to make their operations more efficient. And with the growth of companies like Uber and Lyft, consumers now expect more convenience via technology. With Mobile22, riders can book rides with local taxicab providers using Mobile22's mobile and web apps, and providers gain access to a fully integrated technology platform spanning their entire operations.
"We believe the future of mobility is a shared ecosystem," says Kalluri. "Shared mobility gives consumers greater flexibility at a lower cost, while reducing their carbon footprint. And we believe taxi providers are going to play a major role in this."
While the entire ride-hailing market has seen demand fall over the last few months, Kalluri is confident in Mobile22's timing and value proposition. "Rideshare services are quickly becoming tech-enabled taxi companies," says Kalluri. "With Mobile22, we can partner with existing taxicab companies to provide the technology to offer far greater convenience and efficiency, community by community."
Mobile22 is investing in more partnerships with taxicab providers like Green Cab with its Regional Partner Program. For providers, the Regional Partner Program is a unique opportunity to leverage Mobile22's platform and its brand for their growth. Mobile22 Regional Partners can exclusively operate in their regions as sole providers for Mobile22 rides. Mobile22 is also committing to its Regional Partners to increase rider demand through innovative digital marketing and promotional campaigns.

Mobile22 plans to add regional taxi providers across the US. Riders will be able to book a taxi in each of these regions with the same mobile app.
Mobile22 supports on-demand, scheduled, shared and direct rides. It also supports rides with pets or with a bicycle.
The mobile app offers all the features that riders expect from Uber and Lyft, including upfront fares and live ride tracking.
Mobile22 supports seamless credit card payments as well as in-cab cash payments.
For taxi providers, Mobile22 offers an integrated platform for their mobility operations, including a mobile app for drivers, a call center, dispatch portal, and driver management and vehicle management systems.
Mobile22 was created in close collaboration with two local taxicab companies, Green Cab of Madison and Badger Cab.
About Mobile22
Mobile22 connects riders and taxi providers together in an integrated platform that unlocks mobility for communities everywhere. For riders, Mobile22 offers mobile and web apps to book their rides. For providers, Mobile22 offers a full-stack solution to accept, process and fulfill rides, allowing them to focus on what they do best – giving safe and comfortable rides to people.
About Green Cab
Green Cab is Madison's only 24x7 all-electric taxi provider, serving the greater Madison area, including Middleton, Sun Prairie, Fitchburg, Verona and Waunakee. Green Cab offers zero-emissions rides and deliveries in its fleet of Tesla Model 3s and Chevrolet Bolts. Since 2010, Green Cab has completed over 4 million rides, and is proud to support Madison's residents with reliable and sustainable transportation.
For further information on Mobile22, including information regarding Mobile22's Regional Partner Program and investor relations, visit https://www.mobile22.com.
For information on Green Cab, visit https://www.greencabmadison.com