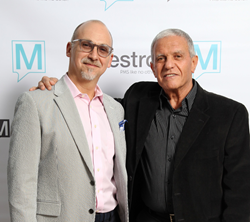 We host our Users' Conference to bring independent operators as much information as possible to help them be more successful. Plus, we want to create a relaxed, fun environment where we can meet and learn from each other.
Toronto (PRWEB) May 06, 2015
Maestro PMS™ wrapped up its most successful – and well attended –Users' Conference April 23. A contingent of nearly 100 of Maestro's clients, partners, and Maestro professionals met for 3 days at the Chaminade Resort and Spa on the coast in Santa Cruz, CA. The event provided independent operators with hands-on instruction, new system announcements, and Ah Ha moments that will make their businesses more profitable. Click here to learn more about Maestro's solutions for profitability and productivity.
A list of action items to make properties more efficient
"This was the best and most organized conference I have attended. I came back to my property with a list of action items that will make our operation more efficient," said Christen Goldie, Revenue Manager at the Apple Farm in the San Luis Obispo wine country. "I learned the Maestro Analytics business intelligence module will automate a big part of my job I am doing by hand now. It was valuable talking with operators of independent properties like mine to find out how they run their operations. Maestro provided a relaxed atmosphere where we all learned more about our systems." Many attendees were impressed with presentations on Maestro Web, the new full-functionality cloud ready browser-based Maestro PMS platform.
Clients contribute ideas for Maestro PMS solutions
Warren Dehan, Maestro PMS President said, "We host our Users' Conference to bring independent operators as much information as possible to help them be more successful. Plus, we want to create a relaxed, fun environment where we can meet and learn from each other. We provided system education, good food, and fun. Our clients provided Maestro with insights on how we can strengthen our systems – and our company."
Maestro attendees responded to a Users' Conference survey with a strong endorsement of the educational programs and the overall event. "One hundred percent of our Conference attendees rated the event and its information as 'extremely useful – very useful,'" Dehan said. "Attendees also gave a 100 percent endorsement that they were 'extremely likely – very likely' to recommend the Users' Conference to other Maestro users." The event's keynote was by widely-respected Daniel Edward Craig on "Leadership and Guest Service Excellence for the Modern Hotelier."
"The Maestro Users Conference was the most comfortable business event I have attended; this is a very good thing for learning new information. The company's professional team was great and very well informed. I particularly valued the technical breakout sessions. I learned our system had new functionality that we can use to enhance our operation and guest experience," said Cameron Tyer, Director of Lodging at The Resort at Schlitterbahn in Texas. "There were some definite 'Ah Ha' moments that will benefit our properties."
Maestro understands independent operators
"I am excited about where Maestro PMS is going with new tools for our industry," said Debbie Wardrop, GM of the Port Ludlow Resort on Washington's Olympic Coast. "Maestro's team listens to what operators say about the tools they need to do their jobs better. Maestro's clients are all unique independents, and Maestro's team understands independent operations. Maestro Web will have some new advantages for our property."
For more information on the Maestro PMS or for a demo of the Maestro Property Management Suite's more than 20 modules please contact Maestro PMS at 1.888.667.8488 or email info(at)maestropms.com.
Exchange ideas and connect with Maestro PMS on Twitter, Facebook, and LinkedIn.
Maestro Property Management Solution
Enhance guest service, improve efficiency, and maximize online and offline revenue with Maestro PMS, the industry's most robust and flexible resort software and boutique hotel software solution empowering leading full-service hotels, luxury resorts, multi-property groups, conference centers, condominiums, and timeshare properties. Solutions include Front Office (PMS), Accounts Receivable, Analytics and Business Intelligence, Sales and Catering, Multi-Property Management, Condo & Timeshare Owner Management with Web Functionality, Spa and Activities, Web Booking Engine, Real-Time Yield Management, Dynamic Packaging Golf, CRM, Guest Experience Measurement, CRO, GDS Two-Way XML Connectivity or Integration, Membership, Work Orders, Fine Dining and Retail POS, Online Table Reservations with Web Booking, Concierge, and Guest Experience Measurement. The Maestro PMS is database independent (ODBC Compliant) and may be deployed via Windows, UNIX, Linux, Terminal Services, hosted, and Web platforms.
About Maestro PMS
Maestro PMS is recognized in the hospitality industry for its standard-setting Diamond Plus Service and robust integrated Maestro resort hotel software technology. With more than 30 years' experience dedicated to developing technology solutions for the hospitality industry, Maestro PMS is a partner who understands you need a scalable, flexible PMS that works the way you do. Maestro applications are engineered for operators who need to manage their enterprise in a real-time environment for the utmost operational efficiency, productivity, control, and profitability.