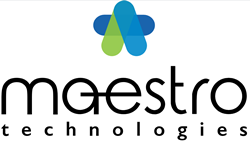 Maintaining the Maestro brand and organization ensures customers will continue to have great service and support from the same people they are used to"
VARENNES, Quebec (PRWEB) November 03, 2020
JDM Technology Group, a global group of leading software providers for the architecture, engineering and construction industries, announced today that it has acquired Varennes, QC based Maestro Technologies Inc., a leading provider of specialized accounting, job cost, estimating and bidding, project management, equipment, and mobile software required for contractors in North America. The transaction closed on November 2, 2020, after approval from Maestro Technologies owner, Robert Meunier.
Founded in 1989 Maestro Technologies is a leading provider of mission-critical ERP software to contractors in North America. Supporting customers in all sectors of the construction industry, Maestro's innovative technology solutions helps contractors to optimize their project management and finance processes. Maestro's software provides the specialized accounting, job cost, estimating and bidding, project management, equipment, and mobile software required for today's contractors. With its rich history and depth of functionality, Maestro's software enables contractors to proactively manage their projects and grow their businesses.
"We are pleased to complete the sale of Maestro to the JDM Technology Group, which is a positive step for Maestro customers and employees, and for the longevity of the business," said Robert Meunier, founder of Maestro Technologies. "Joining a global group with deep roots in the construction industry will allow Maestro to create new value and opportunities for our customers, while our software and technology can be applied on a global scale."
Having acquired numerous companies since 2004, the JDM Technology Group has a proven strategy for integrating acquired companies into its existing infrastructure. Maestro Technologies will continue to operate as a separate company with its existing staff out of its Varennes, QC headquarters. Frédéric Delwiche, current Chief Financial Officer at Maestro Technologies, will lead the business as President and oversee day-to-day operations. Robert Meunier will assist with the transition and will continue to advise the business.
"We employ a global Buy and Build strategy, we do not end-of-life products: customers continue to be supported with their preferred software and services while enabling access to the best technology to support their success. Maintaining the Maestro brand and organization ensures customers will continue to have great service and support from the same people they are used to," said Jim McFarlane, CEO of the JDM Technology Group. "As a private, family company, we are focused on the long-term. This strategy continues to make the JDM Technology Group an excellent home for construction software companies."
About Maestro Technologies Inc.
Founded in 1989, Maestro Technologies is recognized as a leading provider of accounting, job cost, and project management software for contractors in North America. Supporting over 10,000 users in all sectors of the construction industry, Maestro's innovative technology solutions help to optimize project management and finance processes through their integrated software system. https://maestro.ca
About JDM Technology Group
JDM Technology Group is a global software business focused on delivering business software systems for the architecture, engineering and construction industries with over 150,000 users served in 40 countries on 7 continents, employing over 500 staff. The JDM Technology Group's core business philosophy is a long-term commitment to customer service coupled with providing the best possible solutions to customers. JDM Technology Group companies include Computer Guidance Corporation, ConEst Software, Explorer Software, EPAC, IndustrySmarts, JOBPOWER, Maestro Technologies, MicroMain Corporation, MPulse Software, TeamWORKS and Vision InfoSoft in North America; CSSP, CostCon, LEVESYS, Nimbus et Plusfactor in Australasia; and Estimate, Integrity, RedSkyIT and Rendra in the UK, Europe and the Middle East. https://jdmtechnologygroup.com