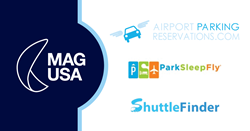 We know the great service and coverage that these businesses have built up over the last 20 years and together they will complement our growing MAG USA commercial services business
SANTA MONICA, Calif. (PRWEB) June 23, 2020
MAG USA has today announced the acquisition of three airport parking, hotel and transfer booking platforms, in a move that signals a focus on growth in the US market.
AirportParkingReservations.com, ParkSleepFly.com and ShuttleFinder.com, which MAG USA has bought for an undisclosed sum, are currently based in Santa Monica, California. Together, they are the U.S.'s biggest airport parking aggregator, offering customers great prices on airport car parking, bundled hotel and parking packages and airport transfers.
The acquisition signals MAG USA's ambition to scale quickly in the U.S. which is seeing a rapid shift from a turn-up to a pre-book model in the airport parking market. A trend that is likely to be further accelerated due to Covid-19 as customers demand a more contactless and predictable parking experience.
Since 2015, MAG USA has opened 12 of its popular own-brand 'Escape Lounge' airport lounges and launched MAGO which offers a range of commercial solutions for the Aviation industry including car park commercial services focused on increasing revenues for operators and improving the customer experience for travelers.
The move will also broaden the global parking distribution offerings for Manchester Airport Group (MAG) – MAG USA's parent company. The sites will join a new family of MAG online booking platforms, including brands it already owns in the UK, Looking4.com and SkyParkSecure.com. Taken together, this family will allow MAG to increase market share in the global parking booking market.
The three US platforms currently have relationships with over 1,000 car parking and hotel operators across the US and Canada and allow passengers to book parking, hotel stays or transfers at over 90% of airports nationally.
"We know the great service and coverage that these businesses have built up over the last 20 years and together they will complement our growing MAG USA commercial services business," said Martin Jones, CEO of MAG USA. "We are very excited to have Carlos and the team join the MAG USA family. The U.S. market is a strategic focus for MAG's international growth and we're all looking forward to the journey ahead of us as the aviation market rebounds."
"I am excited about joining the MAG USA family," said Carlos Chilin, General Manager of AirportParkingReservations.com and ParkSleepFly.com. "I am very proud of what the team has accomplished to date, and am looking forward to what we can accomplish together. This partnership will allow us to accelerate our goals to continue to improve the airport experience for travelers."
Co-Founder of AirportParkingReservations.com, Guy Piccolo said, "After 23 years of being an owner in the off-airport parking business, we dreamed up a website that offered great rates for travelers and increased business for lots. AirportParkingReservations.com and ParkSleepFly.com followed shortly after. It was a joy to be a part of building both companies and watching them thrive."
Any airports interested in working with Airport Parking Reservations, Park Sleep Fly, Shuttle Finder and MAG USA can contact usdev@magairports.com.
About Airport Parking Reservations (APR)/ Park Sleep Fly (PSF)/ Shuttle Finder (SF)
APR (airportparkingreservations.com)/ PSF (parksleepfly.com) / SF (shuttlefinder.com)
Founded in 2000, APR, PSF and SF are leading providers of online reservations and bookings for airport parking and directly adjacent travel needs (e.g., hotels near the airport and pre-booked airport transportation) in the US and Canada. The Company provides a leading-edge booking platform for customers to access these services. They offer the broadest airport coverage of airport parking and related service offerings, strong online marketing skills and affiliate programs, and long-standing relationships with leading operators who thrive on their sophisticated extranet platform.
About MAG USA (magworld.com)
MAG USA, established in 2015, has a range of market-leading commercial solutions that are currently live and operational at a growing number of airports in the United States.
About MAGO (mago.travel)
MAGO, the commercial services brand of MAG USA, is an airport-centric travel company that has an established aCommerce platform for airports and airport operators globally.
About MAG (magairports.com)
MAG (Manchester Airports Group) is the largest UK-owned airport owner and operator, responsible for Manchester, London Stansted and East Midlands Airports. The group includes an off-airport parking brand called JetParks and third-party distribution platforms under the brand names Looking4Parking and SkyParkSecure.
For more information, contact:
Erica Bauer, MAG USA Public Relations Manager, 312.771.0803, erica.bauer@magairports.com