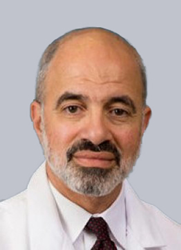 TAMPA, Fla. (PRWEB) September 04, 2020
Physician Partners of America (PPOA) announces that Maged Hamza, M.D., has joined the company as an interventional pain management specialist in its Jacksonville, Fla., practice. The office is located at 11705 San Jose Blvd, Suite 110, Jacksonville, FL 32223.
Dr. Hamza specializes in treating all pain types, including neck, back, abdominal, pelvic and neuropathy. He is a well-known pioneer in treating chronic pain with spinal cord stimulation and pain pumps, but also utilizes many other minimally invasive modalities, including nerve blocks, radio frequency ablation and injections.
"Chronic pain does not get the same level of attention as other diseases, and patients may go from specialist to specialist seeking relief," he says. "My patients have seen as many as seven other doctors before they come to me. By then, they are suffering from emotional as well as physical pain."
A native of Egypt, Dr. Hamza received his Bachelor of Science in Anatomy and Physiology and his medical degree from Cairo University. He completed an internship at the university's College of Medicine, followed by residencies in Anesthesiology and General Surgery at the University of Arizona College of Medicine in Tucson. He completed a fellowship in Pain Management at the University of Virginia School of Medicine in Charlottesville and served as an assistant professor there.
After four years, he went into private practice and later, moved to the Virginia Commonwealth University School of Medicine in Richmond. He served as the director of VCU's interventional pain medicine fellowship, Spine Center, interventional pain, and neuromodulation programs for more than a decade. His patient-centric approach earned Dr. Hamza the distinction of being one of Richmond's "Top Doctors" for five straight years.
Dr. Hamza joins Physician Partners of America - Jacksonville from Eastern Virginia Medical School, where he was a lead investigator researching innovating methods of diagnosing and treating pain.
"I am committed to reducing my patients' suffering," he says. "My sincerest desire is to help them back to enjoying a full life again."
Dr. Hamza is a Diplomat of the American Board of Anesthesiology with a subspecialty in Pain Medicine, and a Diplomat of the American Board of Medical Examiners. He is a member of 15 medical associations including the American Society of Interventional Pain Physicians and the International Spine Intervention Society.
He and his wife have four children. In his spare time, he enjoys tending to his small farm and raising goats and sheep.
Make an appointment with Dr. Hamza by calling (904) 453-7976 or click here
About PPOA:
Physician Partners of America (PPOA) is a national healthcare organization focused on strengthening the doctor-patient relationship and improving patient outcomes. PPOA and its affiliates share a common vision to ensure the well-being of patients and provide its physician partners the opportunity to focus on the practice of medicine. This model allows physicians to be physicians, caring about patients and their needs versus the ever-complex administrative requirements. For more information about Physician Partners of America, visit http://www.physicianpartnersoa.com.