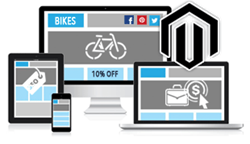 We build Magento websites that create and capitalize on sales opportunities
Miami, FL (PRWEB) July 26, 2013
Sales Secret, a Miami, FL-based firm specializing in a variety of e-commerce solutions for businesses including planning tactics, social media and data analysis, has announced reduced pricing on its intuitive website design services. The company is best known for its Magneto web development services. Magento is a feature-rich, professional open-source e-commerce solution that offers merchants complete flexibility and control over the look, content and functionality of an online store. Already an affordable solution for merchants looking to increase their online presence, Sales Secret's website design and its reduced pricing tactic is poised, says the company, to further expose how attractive and easily navigated websites instill consumer confidence and "convert engagement to sales."
"We build Magento websites that create and capitalize on sales opportunities," states Robert Hadland, Sales Secret Managing Partner. "While most business owners, at least, probably – hopefully – already know what a website is and how it will help their business, we take the concept a step further by offering a wide array of related services that go beyond the ordinary. In announcing a reduction of our website design services pricing, a wider range of clients can now be exposed to the Sales Secret magic."
With the reality that a website can either drive sales traffic or turn away prospects in mere seconds looming like a business specter over entrepreneurs' heads, Sales Secret applies a battery of powerful tools to ensure its clients are receiving maximum online exposure.
"As a direct window into an organization, we stress to our clients that it may be well worth the time to consider what kind of impression they currently present to the world," adds Hadland. "Companies today must have professional-looking sites if they want to be taken seriously – and if they want their business to flourish."
For more information, visit http://www.salessecret.com or call 888 553-9113.