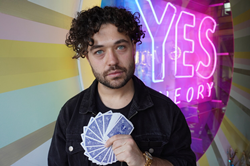 "We are looking forward to a fun night of magic, drinks and food to bring the New York metro community together for a great cause." - David Rubin
WOBURN, Mass. (PRWEB) November 03, 2021
John Stessel, a popular New York City magician who represents "the new age of magic, bringing charismatic, heartfelt, and hard-hitting entertainment to the world's biggest stages," is headlining a show on November 18, 2021, at The Kolo Klub in Hoboken, NJ, to raise funds for research on facioscapulohumeral muscular dystrophy, or FSHD, the FSHD Society announced today.
The FSHD Society is the world's largest research-focused patient advocacy nonprofit dedicated to the debilitating disease. Those who have this genetic condition experience progressive, life-long weakening and wasting of muscles, which can lead to significant disability. It is passed down through families and affects an estimated one in 8,000 people in the general population. There are currently no treatments to stop or reverse the disease.
"FSHD is a rare disease that few people have ever heard of, so we are incredibly grateful to John Stessel for lending his name and his amazing talents to raise public awareness and funding for research," said David Rubin, who recently retired as Principal with CohnReznick Advisory and serves on the board of directors of the FSHD Society.
"We are looking forward to a fun night of magic, drinks and food to bring the New York metro community together for a great cause," Rubin added. "We are so close to a breakthrough for treatment of this disease. It has never been more critical that we have the resources to continue to support research, educate the medical community and advocate for patients."
Event details
November 18th, 2021: 6-9 pm
First Annual "Magic for a Cure" for FSH Muscular Dystrophy (FSHD)
featuring Celebrity Magician John Stessel
The Kolo Klub (at the Pilsener Haus Biergarten)
1422 Grand St, Hoboken, NJ 07030
Register here
About John Stessel
John Stessel currently performs his residency at the Red Rabbit Club in the Meatpacking District of NYC. He has performed alongside some of music's biggest names such as 50 Cent, Travis Scott, Future, and Lil Pump. Additionally, Stessel has performed at exclusive events like Z100's Jingle Ball, Marky Ramone's Holiday Concert, and privately for the likes of John Travolta and Neil Patrick Harris. He is often known for his viral magic videos that have millions of views, including a holiday project that ended up being a #1 trending video on YouTube and the top post on Reddit all in just 24 hours! Stessel's magic has been featured on TBS, ABC, The SyFy Channel, PageSix, People, Huffington Post, and more.
About the FSHD Society
The FSHD Society is the world's largest research-focused patient advocacy organization for facioscapulohumeral muscular dystrophy (FSHD), one of the most prevalent forms of muscular dystrophy. The Society has catalyzed major advancements and is accelerating the development of treatments and a cure to end the pain, disability, and suffering endured by one million people worldwide who live with FSHD. The FSHD Society has transformed the landscape for FSHD research and is committed to making sure that no one faces this disease alone. The Society offers a community of support, news, and information through its website.