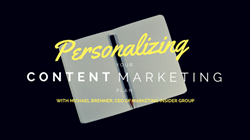 Personalization is delivering the right piece of content to the right person at the right time.
Austin, TX (PRWEB) May 09, 2017
Magnificent Marketing is excited to present a new webinar on the role of personalization in content marketing and tips for personalizatino, available now.
In this webinar, Magnificent CEO and founder David Reimherr teams up with Michael Brenner, CEO of Marketing Insider Group, and co-author of the best-selling book, The Content Formula. Bernner is recognized by Forbes as Forbes' top CMO influencer and social media marketer, and Dun & Bradstreet has also recognized him as a top B2B marketer. Michael has also been included on the list of the top fifty most influential content marketers in the country.
Brenner discusses four important trends for companies in content marketing:
1. Specialization - brands trying to really truly define a space they can actually own.
2. Visualization - essentially creating more visual kinds of content, which is kind of a skill that not a lot of brands have really worked as hard on.
3. Humanization - telling real, human stories that meet people at their emotional level and touch upon the pains and challenges that they have.
4. Personalization - delivering the right piece of content to the right person at the right time.
In this webinar, Brenner dives into personalization, specifically, and touches on the following topics:

Choosing useful tools
Developing modular content
Picking a platform
Understanding the audience
Using the right tone
And more!
The webinar is available now on Magnificent's YouTube page and, along with an accompanying blog, on Magnificent.com. Click here to watch the webinar now!
About Magnificent Marketing:
Magnificent Marketing is your full-service content marketing agency that will take care of all your marketing needs so that you can concentrate on the core duties needed to manage and grow your business.
Their objective is to generate leads that turn into customers while focusing on expanding the visibility of your company and brand, and positioning you to be "top of mind" for future potential clients.
In order to achieve this, they draw on their experience and belief that a mixture of traditional marketing techniques combined with modern marketing tools will yield the best results. In other words, they blend old and new school marketing to create the best school of thought.
About Michael Brenner:
Michael Brenner is a globally-recognized keynote speaker, author of The Content Formula and the CEO of Marketing Insider Group. He has worked in leadership positions in sales and marketing for global brands like SAP and Nielsen, as well as for thriving startups. Today, Michael shares his passion on leadership and marketing strategies that deliver customer value and business impact. He is recognized by the Huffington Post as a Top Business Keynote Speaker and a top CMO influencer by Forbes. Follow Michael on Twitter @BrennerMichael.