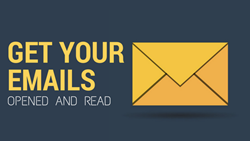 Email is still the primary channel for most marketers, and one survey found that 89% of marketers use email for lead generation.
Austin, TX (PRWEB) May 30, 2017
While social media and other types of marketing have taken off, marketing is still a strong line of support for marketers. In fact, it is still the primary channel for most marketers, and one survey found that 89% of marketers use email for lead generation.
Email is powerful, and clearly something that every marketer must use correctly. Most importantly, a marketer must know how to talk to their customers on the receiving end of each email – by applying some psychology.
In this webinar, Magnificent Marketing teams up with marketing expert Nancy Harhut --NEDMA Direct Marketer of the Year, Ad Club Top 100 Creative Influencer, and OMI Top 40 Digital Marketing Strategist -- of the Wilde Agency to present a new webinar on the psychology behind email marketing and how to apply psychology to get emails opened and read.
The webinar, available now, focuses on the following topics:
-Subject lines
-The proper pronouns
-Integrating behavior principles
-Creating a call to action
-Increasing Conversions
-And more!
The webinar can be found on Magnificent's YouTube channel and, with an accompanying blog, on Magnificent.com. Click here to watch the webinar now!
About Magnificent Marketing:
Magnificent Marketing is your full-service content marketing agency that will take care of all your marketing needs so that you can concentrate on the core duties needed to manage and grow your business.
Their objective is to generate leads that turn into customers while focusing on expanding the visibility of your company and brand, and positioning you to be "top of mind" for future potential clients.
In order to achieve this, they draw on their experience and belief that a mixture of traditional marketing techniques combined with modern marketing tools will yield the best results. In other words, they blend old and new school marketing to create the best school of thought.
About Nancy Harhut:
An unusually strategy-minded, results-oriented creative director, Nancy is nationally recognized for best-in-class creative. She and her teams have won over 200 awards for direct marketing effectiveness. In her role as Chief Creative Officer, Nancy draws upon more than 20 years of senior creative management experience honed at Hill Holliday, Mullen, and Bronner (now Digitas), where she worked with such clients as Dell, IBM, Novartis, House of Seagram, Bank of America, AT&T, American Express, Sheraton, and GM, among others.
Nancy holds a BA in Journalism from Boston University. She is a frequent contributor to industry trade magazines and a requested speaker at marketing conferences.