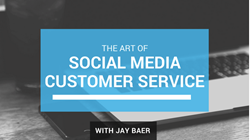 The era of private customer service is over, and with more and more customers opting to leave compliments and complaints on public forums like social media, how a business reacts and responds is more important than ever.
Austin, TX (PRWEB) May 23, 2017
While previously, customer service representatives handled complaints over the phone, in-person, or through email, the era of private customer service is over. Now, thousands of people can read reviews online and know how brands operate, and it's easy for a single customer to permanently tarnish the reputation of a company and penalize them for their poor customer service skills. This makes it more important than ever for a brand to step up their customer service game, particularly in the most public arena: social media.
In this new webinar, Magnificent Marketing teams up with content marketing expert Jay Baer of Convince & Convert to present a new webinar on how to use social customer service to improve a business.
In the webinar, Magnificent and Baer cover the following topics:
-The end of the face-to-face advantage
-The importance of answers
-The most valuable customers
-Doing an honesty audit
-Techniques for different types of complainers
-And more!
The webinar is available on Magnificent's YouTube page and, with an accompanying blog, on Magnificent.com.Click here to watch the webinar now!
About Magnificent Marketing:
Magnificent Marketing is your full-service content marketing agency that will take care of all your marketing needs so that you can concentrate on the core duties needed to manage and grow your business.
Their objective is to generate leads that turn into customers while focusing on expanding the visibility of your company and brand, and positioning you to be "top of mind" for future potential clients.
In order to achieve this, they draw on their experience and belief that a mixture of traditional marketing techniques combined with modern marketing tools will yield the best results. In other words, they blend old and new school marketing to create the best school of thought.
About Jay Baer:
Jay Baer is the world's most retweeted person among digital marketers. He is a renowned business strategist, keynote speaker and the New York Times best-selling author of five books who travels the world helping businesspeople get and keep more customers. Jay has advised more than 700 companies since 1994, including Caterpillar, Nike, Allstate, The United Nations and 32 of the FORTUNE 500. He is the founder of Convince & Convert, a strategy consulting firm that helps prominent companies gain and keep more customers through the smart intersection of technology, social media, and customer service. His Convince & Convert Media division owns the world's #1 content marketing blog, the world's top marketing podcast, and many other education resources for business owners and executives. The creator of five multi-million dollar companies, Jay is an active venture capitalist and technology advisor, as well as an avid tequila collector, and certified barbecue judge.