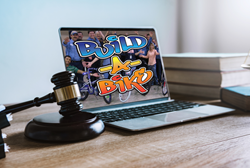 This lawsuit has been a tremendous strain on my employees and on morale...
DALLAS (PRWEB) August 13, 2018
After almost five years of litigation, Magnovo Training Group and its President, Robert C. Jackson, settled a trademark and trade secrets lawsuit with Jackson's former employer, The Leader's Institute ®, a Texas-based charity team building company, for $1,060,000 and permanent injunctions against Magnovo and Jackson. (The Leader's Institute, LLC. v. Magnovo - U.S. District Court, Northern District of Texas, Case No. 3:14-CV-3572-B) The settlement comes just weeks before jury selection was to begin in the five-year-long court battle.
At the center of the lawsuit was the BUILD-A-BIKE ® team activity that The Leader's Institute ® began offering to client companies in 2005. The event combines fun and interactive team development with a donation of bicycles to a local children's charity. "BUILD-A-BIKE ® really changed conventions and annual meetings forever," said Doug Staneart, president of The Leader's Institute ®. "It is a very unique way to build teamwork and also give back to your community." According to Staneart, his company has donated over $5 million worth of bicycles to young children in cities all over the world.
Robert Jackson of Indianapolis, a former employee of The Leader's Institute ®, was trained by Staneart to teach the official BUILD-A-BIKE ® program, "Jackson was a fantastic instructor," said Staneart, "In fact, at one time, he was one of our instructor trainers who taught our newer facilitators how to lead the program." Jackson resigned from his position in 2013.
According to the complaint, Jackson was accused of misappropriating trade secrets, trademark infringement, and cybersquatting. The lawsuit claimed that Jackson had misappropriated his former company's client list and was marketing an infringing version of BUILD-A-BIKE to current and former clients of The Leader's Institute ®. The lawsuit also alleged that Magnovo had inserted over 1000 instances of the term "Build-A-Bike" on dozens of Magnovo owned websites.
Cybersquatting is registering, trafficking in, or using a domain name with bad-faith intent to profit from the goodwill of a trademark belonging to someone else. In 2013 and 2014, Jackson purchased the websites letsbuildabike.com, charitybuildabike.com, buildabikecharity.com, and buildabikeforcharity.com and began marketing an event called "Let's Build-A-Bike". The allegation from the lawsuit was that the Let's Build-A-Bike activity was deceptively similar to the registered BUILD-A-BIKE service mark and was likely to cause confusion in the marketplace.
Jackson and Magnovo lost a series of proceedings and summary judgement decisions in the case prior to the settlement.
In 2015, The Leader's Institute ® filed a complaint with the Uniform Domain-Name Dispute-Resolution Policy (UDRP) asking ICANN, the website domain issuing authority, to transfer the Cybersquatting domains to Staneart. (UDRP Proceeding: Doug Staneart v. Robert Jackson, Claim Number: FA1507001630488) Judge Nelson A. Diaz granted the websites to Staneart, and in the decision, Diaz stated that Jackson registered and used the infringing domains in bad faith because he "was formerly a contractor for [Staneart], and that [Jackson] had actual knowledge of [Staneart's] trademark rights when he registered the disputed domain name."
Jackson filed for a cancelation of the BUILD-A-BIKE trademark, but the mark was upheld by Judge Jane Boyle in a summary judgement proceeding.
Jackson also filed a counter-suit against Staneart for defamation and abuse of process, but both were denied by Judge Boyle in summary judgement. Jackson's three defenses were also dismissed from the case in the same summary judgement ruling.
In addition to the monetary settlement agreed to by the parties, the court issued permanent injunctions against Magnovo and Jackson using the BUILD-A-BIKE trade-name in commerce. An additional permanent injunction was issued by the court keeping Jackson and Magnovo from contracting with 130 clients of The Leader's Institute ®.
"I'm glad we could finally put this behind us. This lawsuit has been a tremendous strain on my employees and on morale in our workplace," said Staneart.
________________________________________________________________________________
Doug Staneart is CEO of The Leader's Institute® based in Dallas, Texas. His company specializes in charity team building activities for companies who want to improve teamwork while giving back to their communities.