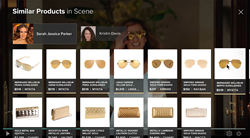 make visual content shoppable
NEW YORK (PRWEB) November 03, 2020
Computer vision start-up, Mai, today introduced the world's first video recognition API for fashion that utilizes state of the art technology to the U.S. market. The video search is called 'Moment API' and can recognize fashion products in static videos and match them with exact or similar items from e-commerce sites providing a lifeline to struggling retailers due to the COVID-19 pandemic.
The core of Mai''s technology is in the high-speed and accurate multi-object recognition of video content through image search, feature word capturing, and video search derived from image recognition. This feature simulates the human eye by recognizing both matching and similar items, then generating affiliate links from hundreds of retailers associated with the items that are found.
"Clicks are the new foot traffic," says CEO Joy Tang, an MIT graduate and former Wall Street High-Frequency Trader. "We have seen so many big retail companies go bankrupt. Our products have been created to protect others from the same fate".
Mai gives consumers a new fun visual discovery shopping tool that makes any photo or video shoppable; powered by computer vision deep learning and a sophisticated e-catalog management system.
The New York-based startup has spent the last three years working with top computer vision AI scientists and engineers to create products that tackle the $200B gap between digital content and eCommerce. Mai has already amassed 14 million SKUs globally from hundreds of fashion retailers, including Farfetch, Yoox, Bloomingdales, SHEIN, SSENSE, H&M, and Revolve.
In 2020, Mai launched successful pilots with two of Asia's biggest social media /content platforms. Currently active with Moment API on Asia's largest social networking platform, the company has found an astonishing click through rate of 20% on product links. This, in comparison to the market average of .02% seen with banner ads, gives hope that there is a better solution in driving traffic to e-commerce sites. Tang expects MaiI to generate more than $20 billion in new Gross Merchandise Value (GMV) (revenues at retail price) for retailers worldwide in 3 years, and $2 billion in revenue for Mai.
"Now is the time for retailers and brands to embrace technology that both identifies and simplifies the buying process of their product, once it has been viewed digitally through organic, streaming content," says Terry Lundgren, retired Chairman and CEO of Macy's. "Companies like Mai offer this service on a 'pay-for-performance' basis making a new business relationship easy to justify, especially during challenging times when brands need to reach more consumers".
Historically, advertising has been the main source of revenue for most content and social media platforms. As COVID-19 prevails, advertising revenues are dropping 60% causing retail advertisers' budgets to shrink. This has caused a shift for retail advertisers to pivot their tactics to results based models, such as CPS (Cost per Sale) or CPA (Cost per User Acquisition).
This change has hit social media hard as most advertising professionals and systems are trained and programmed to sell CPM (Cost per Mille) and CPC (Cost per Click) only. There is a belief that CPS isn't something they have control of, and it is determined by factors such as price, quality etc from the advertisers. With shrinking budgets,
advertisers are now focusing on CPS or CPA models since buying CPM CPC doesn't guarantee real results, and which can be easily faked by content platforms.
This shift has been a constant conflict in recent years even before COVID-19 and has been accelerated due to the pandemic. Mai provides a solution for both parties by buying CPM from content platforms, and selling CPS and CPA to advertisers who want to see real results. "We act like a translator between content platforms and retail advertisers, so they both get what they want and are able to make a profit between 40% - 300% during the conversion," says Tang.
Mai works with retailers, content platforms, and social influencers across the world to create seamless see-to-buy shopping experiences for online shoppers. With employees in the U.S. and China, Mai is dedicated to making the best computer vision and AI products for the retail industry.
Photo search and shop: ( Live ): https://youtu.be/j1CwgEvo3QI
Video search and shop ( Live ): https://youtu.be/u6RV4jjXtAw
ABOUT Mai
Founded in 2016 by Joy Tang, who graduated from MIT, with a Gold Medal in Math Olympics. In 2018, Joy has won Goldman Sachs Top 100 Most intriguing entrepreneurs.
Mai works with retailers, content platforms and social influencers across the world to create seamless see-to-buy shopping experiences for online shoppers. To date, the company has raised $9 million in investments from FoundersX, Japan's biggest advertising company Dentsu, Cheetah Mobile; Plug n Play, Deepcore (Softbank's early stage AI fund), Plum Alley (Wall-street managers fund that invest in women); IVP (Japan), Cachet (Family Office). In July 2020, Mai won first place in "MIT AI Idol 2020".