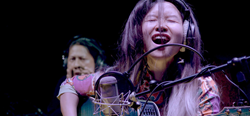 "The Vietnamese people, like all people around the world, deserve an open internet and freedom of speech and assembly." -- Mai Khoi
NEW YORK (PRWEB) November 06, 2019
PRESS SCREENING AT DOC NYC – MAI KHOI & THE DISSIDENTS
Thursday, November 7, 2019 10:15 AM
Cinepolis Chelsea
WORLD PREMIERE PUBLIC SCREENINGS AT DOC NYC – MAI KHOI & THE DISSIDENTS
Wednesday, November 13, 2019 at 7:35 PM
Cinepolis Chelsea
Thursday, November 14, 2019 at 3:20 PM
Cinepolis Chelsea
Thursday's showing will be followed by an in-person for post-premiere Q&A: Director Joe Piscatella, producer Matthew Torne, and musician, activist, and film subject Mai Khoi.
For more information, to get screeners or to book an interview with Mai Khoi, please contact Elizabeth Thorp or Adam Segal at elizabeth@edtpr.com or adam@the2050group.com.
ABOUT THE DIRECTOR – JOE PISCATELLA's second feature documentary, Joshua: Teenager vs. Superpower won the Audience Award at the 2017 Sundance Film Festival and was acquired as a Netflix Original. His first feature documentary, #ChicagoGirl, has been seen in more than 60 countries. He was also an executive producer on the documentary Finders Keepers, which premiered at Sundance in 2015. In 2019 he was nominated for an Emmy for his directorial work on Food Interrupted.