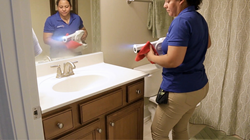 ATLANTA (PRWEB) March 17, 2020
Maid Brigade, the leader in green residential house cleaning, is revolutionizing the cleaning industry with its PUREmist® disinfection system. Many consumers are unaware that their homes are not being disinfected during regular cleaning due to the complexity of traditional disinfection methods that require germ-specific chemicals and lengthy soak times. Maid Brigade has introduced the PUREmist disinfection system to address this issue.
PUREmist disinfects by killing germs, bacteria and viruses using the combination of a hospital grade disinfectant applied via an electrostatic sprayer to create an electronically charged mist that wraps around surfaces and objects for 360-degree coverage. The electrostatic technology allows the disinfectant to bond to areas that are unreachable by traditional pump sprayers and eliminates the need to wipe away remaining liquid after correct dwell time has occurred. By allowing the product to dwell and then air dry, the disinfectant remains in place until the surface is touched again. PUREmist can disinfect kitchens, bathrooms and living areas with special emphasis on high touch areas such as computers, keyboards, remotes, light switches, handles, knobs and more. Unlike bleach and other disinfecting chemicals, PUREmist is safe to use in the home around children, pets and plants. PUREmist is effective at killing bloodborne pathogens, Herpes, Polio, Norovirus, MRSA and many animal pathogens. It is effective at preventing the flu and other viruses which spread easily. PUREmist is also helpful in removing odor from pets, smoke and other causes in the home.
Maid Brigade is committed to providing our customers with the safest, healthiest and most effective cleaning methods available. PUREmist achieves the goal of disinfecting without toxic chemicals and keeps customers' homes and the environment safe and healthy.
PUREmist is available exclusively from Maid Brigade and may be used during one-time, regular as well as move in cleanings. Available at participating Maid Brigade locations. Visit https://www.maidbrigade.com/puremist/ for more information.
About Maid Brigade
Headquartered in Atlanta, Maid Brigade is a global residential cleaning service with more than 365 franchised service areas operating in the United States, Canada and Saudi Arabia. Established in1981, Maid Brigade remains at the forefront of the residential cleaning industry. Maid Brigade was the first national residential cleaning service to commit to green cleaning and established its Green Clean Certified system which is safer and healthier for employees, customers and the environment. Customers depend on Maid Brigade to consistently exceed their expectations, providing a safe and thorough cleaning, along with superior, guaranteed service. For more information, visit http://www.maidbrigade.com or call 888-79-GREEN.