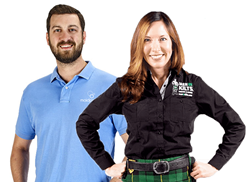 "This pandemic has given people the opportunity to evaluate their current situation and pursue other options."
BOSTON (PRWEB) July 29, 2020
MaidPro, a residential home cleaning franchise, and Men In Kilts, a window and exterior house cleaning franchise, have continued to welcome new owners into their brands throughout 2020. Cleaning and home maintenance is at the forefront of many people's priority list as they are spending more time at home due to the Covid-19 virus.
This year, MaidPro has signed on six new franchise owners with locations in Texas, California, North Carolina, Wisconsin, Nevada, and Massachusetts. During the same period, they have also trained five additional new franchisees who have successfully opened their doors for business. Currently, MaidPro has over 285 locations across North America and is ranked second in the country for franchisee satisfaction by Franchise Business Review.
Men In Kilts has signed on and trained six new franchise owners with locations in Ohio, Texas, Colorado, Alabama, Arizona, and North Carolina. Men In Kilts U.S., originally a Canadian franchise brand, was acquired in 2019 and has seen an exponential increase in new offices and businesses ever since. The brand uses a unique marketing strategy where their technicians wear kilts in the field to help both promote and create a fun experience for the customer.
The continued growth of these brands has come as a bit of a surprise as most other industries have seen a halt in sales and operations due to the Coronavirus pandemic. Mark Kushinsky, MaidPro & Men In Kilts CEO, attributes this growth to the large number of people wanting and needing new opportunities, "With the economy shut down, many people have job insecurity and more time to spend thinking about their futures. We are proud to offer low-cost business opportunities that allow people to become their own boss and design a lifestyle that they desire." Kushinky continued, "It's easy for people to get caught up in their everyday routines and push off career or personal goals. This pandemic has given people the opportunity to evaluate their current situation and pursue other options."
MaidPro and Men In Kilts both pride themselves on their franchisee satisfaction, innovative technology, and freedom (both financially and personally) that their brands provide. Both also offer a variety of startup options based on investment level and special discounts for qualified candidates.
MaidPro and Men In Kilts are both currently accepting new owners into their systems. For more information visit maidprofranchise.com or meninkiltsfranchising.com.