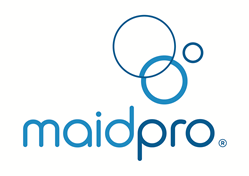 "It's very touching to be rated so highly by our own employees for being a great place to work. I personally view this as a reflection of our strong commitment to company culture. It's also awesome to be acknowledged by the Globe right here in our home city of Boston."
BOSTON (PRWEB) January 10, 2019
MaidPro Franchise Corp. is pleased to announce that it has been named to the Boston Globe's list of Top Places to Work for 2018. The list is based on surveys completed by employees of companies throughout the state.
MaidPro Franchise was one of only 27 employers to make the Globe's list in the Small Companies category, for employers with 50 to 90 employees. MaidPro ranked in 13th place this year, the second time our corporation has made the list.
MaidPro co-founder and CEO Mark Kushinsky, stated: "It's very touching to be rated so highly by our own employees for being a great place to work. I personally view this as a reflection of our strong commitment to company culture. It's also awesome to be acknowledged by the Globe right here in our home city of Boston, where MaidPro has grown from a small startup in Beacon Hill to a successful franchise brand with more than 250 locations across the country and in Canada."
This is the 11th year straight that the Boston Globe, in partnership with Energage, an employee research and consulting firm based in Philadelphia, has sponsored the list of Top Places to Work. The goal of the list is to identify those companies that go above and beyond for their workers. Approximately 2,700 employers in Massachusetts with 50 or more employees were invited to participate.
More than 82,000 employees from 300-plus companies participated, by taking a survey which covered 24 different factors, ranging from compensation to confidence in their employers' direction. Winners were separated into four different categories, based on the number of employees. MaidPro, with approximately 60 U.S. employees, competed in the Small Companies category.
ABOUT MAIDPRO
MaidPro is a Boston-based franchisor of house cleaning services with over 255 locations in 38 states, the District of Columbia, and Canada. The company, which began franchising in 1997, takes pride in its strong owner community, cutting-edge technology, and creative marketing. It has been honored with the Franchise Business Review's Four-Star Rating and Franchise 50 awards every year from 2006 to 2019 for owner satisfaction. MaidPro was named one of the Top 50 Franchises for Minorities by USA Today's Franchising Today. MaidPro is also a proud member of the International Franchise Association, Canadian Franchise Association, and the New England Franchise Association. The company can be found online at http://www.maidprofranchise.com.