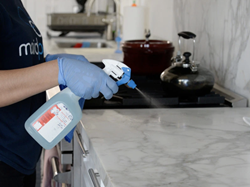 While our business has been affected by the pandemic, we were able to pivot our services to adhere to guidelines and continue to help our communities and employees.
BOSTON (PRWEB) May 14, 2020
As the government begins to ease stay-at-home orders, many are wondering what to do next. In the wake of COVID-19, thousands have been left jobless or with reduced paychecks. MaidPro franchise announces new discounts to help frontline workers and those recently unemployed become business owners.
These discounts, valued at $15,000, will work to help first responders, doctors, nurses, and other frontline workers to purchase their own franchise business. MaidPro also offers financing and other financial assistance to those who do not qualify for the discount.
According to the US Bureau of Labor Statistics, over 33 million Americans have filed for unemployment over the past six weeks. Forbes has published this week that 42% of all COVID-19 job losses will be permanent, leaving approximately 14 million people without pay.
MaidPro is still continuing to welcome new franchise owners to their system as many are now turning to the franchise industry for a new way to supplement their income and gain control over their futures.
Not all franchises are built the same; there are a few industries considered recession-resistant and have continued to thrive despite the pandemic. More specifically, the home cleaning industry (including MaidPro) has been deemed essential in many areas around the United States, and thus the businesses were not forced to shut down.
"While home cleaning may not be the sexiest business around, it is recession resistant and a service that will remain in demand," says MaidPro CEO Mark Kushinsky. "Owning a franchise is a great way to have more control over your financial future. We are so thankful for those who are working to battle this virus and we hope to be of help to those looking for a new career or lifestyle."
To learn more about MaidPro franchise, visit maidprofranchise.com.
About MaidPro
MaidPro is a Boston-based franchisor of house cleaning services with over 275 locations in 38 states, the District of Columbia, and Canada. The company, which began franchising in 1997, takes pride in its strong owner community, cutting-edge technology, and creative marketing. It has been honored with the Franchise Business Review's Four-Star Rating and Franchise 50 awards every year from 2006 to 2020 for owner satisfaction. Forbes has named MaidPro a Top Franchise to Own in 2015, 2016, 2018, and 2019. MaidPro was named one of the Top 50 Franchises for Minorities by USA Today's Franchising Today. MaidPro is also a proud member of the International Franchise Association, Canadian Franchise Association, and the New England Franchise Association. The company can be found online at http://www.maidprofranchise.com.