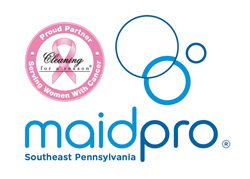 "It has been a pleasure for us to be able to give back to the community through such a worthy cause."
COLLEGEVILLE, Pa. (PRWEB) March 26, 2019
MaidPro Southeast Pennsylvania has helped an estimated 100 cancer patients by gifting them with free home cleanings during its 10 years of partnership with Cleaning for a Reason.
Jesse Zook, owner of MaidPro Southeast Pennsylvania, has four locations which serve the majority of Southeast Pennsylvania. His office locations in Collegeville, Wayne, Exton, and Chestnut Hill serve those towns and the surrounding communities.
"It has been a pleasure for us to be able to give back to the community through such a worthy cause," says Zook. "We are proud to partner with Cleaning For a Reason and encourage anyone battling cancer and needing home cleaning help to reach out."
Cleaning for a Reason is a non-profit organization that partners with residential cleaners like MaidPro throughout the U.S. and Canada to offer free in-home cleanings to help women who are battling cancer. Since it was founded in 2006, Cleaning for a Reason and its partners have donated more than $10 million in free services and helped more than 30,200 women.
Keeping a clean home can be challenging in the best of circumstances. But for women with cancer, it can be overwhelming to try to balance all their normal responsibilities while getting treatments and focusing on fighting their disease.
Patients who are eligible for assistance through Cleaning for a Reason receive two free house cleanings, one general cleaning a month for up to two months.
For a free home cleaning estimate please visit maidpro.com/estimate.
ABOUT MAIDPRO
MaidPro is a Boston-based franchisor of house cleaning services with over 275 locations in 38 states, the District of Columbia, and Canada. The company, which began franchising in 1997, takes pride in its strong owner community, cutting-edge technology, and creative marketing. It has been honored with the Franchise Business Review's Four-Star Rating and Franchise 50 awards every year from 2006 to 2019 for owner satisfaction. Forbes named MaidPro a Top Franchise to Own in 2015, 2016, 2018. MaidPro was named one of the Top 50 Franchises for Minorities by USA Today's Franchising Today. MaidPro is also a proud member of the International Franchise Association, Canadian Franchise Association, and the New England Franchise Association. The company can be found online at http://www.maidprofranchise.com.