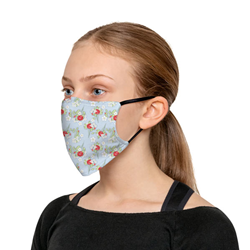 "A personalized face mask is a colorful way to show a favorite photo, design or message that we are all in this together," says Fred H. Lerner, CEO and co-founder, MailPix
HUNTINGTON BEACH, Calif. (PRWEB) July 21, 2020
MailPix, the photo-printing, canvas and gifting site, announced personalized face masks are now available. Customers can choose to upload their own photo, choose from pattern, or create their own personalized text message.
"During these challenging times, consumers are looking for safe ways to express themselves," says Fred H. Lerner, CEO and co-founder, MailPix. "A personalized face mask is a colorful way to show a favorite photo, design or message that we are all in this together."
MailPix personalized face masks are comfortable, machine-washable and affordable. The double-layer face mask measures 7.25 x 5.10"; the inner layer is 100% cotton and the outer layer is 100% polyester. The masks are secured by adjustable polyester/spandex earloops. There is also a pocket to hold an optional PM2.5 activated carbon filter; a two-pack of PM2.5 filters is included.
For more information, go to https://www.mailpix.com/gifts/clothing/custom-face-masks/
ABOUT MAILPIX.COM
MailPix.com is the pre-eminent site for printing photos instantly at thousands of retailers from phone app or PC and also offers convenient mail-to-home. MailPix preserves photo memories as photo books, canvas, prints, cards, enlargements and other photo gift products. The service is seamlessly integrated to print photos from any phone, device or computer. MailPix offices are located in Huntington Beach, Calif.
Fred H. Lerner is the founder and CEO of MailPix, his latest startup. He previously founded Ritz Interactive, which included RitzCamera.com, WolfCamera.com and others. Fred also founded two imaging companies which were acquired by Kodak and became the CEO of Kodak Processing Labs. He is a United Nations' Hall of Fame recipient from the International Photographic Council and Past President of the Photo Marketing Association International. 
Peter Tahmin, co-founder and COO of MailPix, was the former vice president at Ritz Camera & Image and co-founder, senior vice president and COO of the Ritz Interactive e-commerce network, which included RitzCamera.com, WolfCamera.com, BoatersWorld.com and others. He brings more than 25 years of e-commerce experience and a lifetime of imaging industry experience to MailPix.