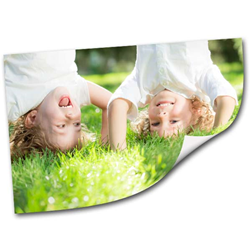 "Peel & Stick prints are just one of the hundreds of innovative and exciting personalized photo products we offer. Our team is continually adding new products for home, for the office, for school and for small business." - Fred H. Lerner, CEO and co-founder, MailPix
HUNTINGTON BEACH, Calif. (PRWEB) September 16, 2020
MailPix, the photo-printing, canvas, and gifting site, was featured Sept. 16, 2020, on "The Today Show" as part of the "Work from Home" segment with lifestyle expert Jill Martin.
MailPix Peel & Stick prints are available in more than a dozen sizes, up to 36x48 inches. Just start with MailPix's fun and creative templates and create perfect wall decals by adding your own photo. Adhesive backing allows the avid decorator to easily peel the wall art decal off the wall and reapply in different locations.
"Peel & stick wall decals are great for any child's room," says Fred H. Lerner, CEO and founder. "You can easily add custom wall decorations to any room but these are especially fun for young children. Imagine their smiles seeing themselves or their friends and family life-size on their wall!"
MailPix is offering a "The Today Show" special 60% discount, plus shipping and handling, to commemorate the appearance. Just use code "todayshow" at checkout.
"This is the third time this year MailPix products have been featured on 'The Today Show,'" adds Lerner. "Peel & Stick prints are just one of the hundreds of innovative and exciting personalized photo products we offer. Our team is continually adding new products for home, for the office, for school and for small business."
ABOUT MAILPIX.COM
MailPix is the pre-eminent site for printing photos instantly at thousands of retailers from phone app or PC and also offers convenient mail-to-home. MailPix preserves photo memories as photo books, canvas, prints, cards, enlargements and other photo gift products. The service is seamlessly integrated to print photos from any phone, device or computer. MailPix offices are located in Huntington Beach, Calif.
Fred H. Lerner is the founder and CEO of MailPix, his latest startup. He previously founded Ritz Interactive, which included RitzCamera.com, WolfCamera.com and others.  Fred also founded two imaging companies that were acquired by Kodak and became the CEO of Kodak Processing Labs. He is a United Nations' Hall of Fame recipient from the International Photographic Council and Past President of the Photo Marketing Association International. 
Peter Tahmin, co-founder and COO of MailPix, was the former vice president at Ritz Camera & Image and co-founder, senior vice president and COO of the Ritz Interactive e-commerce network, which included RitzCamera.com, WolfCamera.com, BoatersWorld.com and others. He brings more than 25 years of e-commerce experience and a lifetime of imaging industry experience to MailPix.