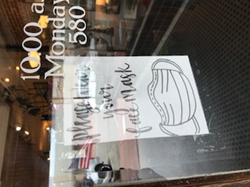 DUNCAN, Okla. (PRWEB) May 08, 2020
A majority of the stores, restaurants, and offices in downtown Duncan, Oklahoma have reopened for business this week.
Stores, restaurants, clinics, and doctors' offices have individual policies for their guests and patients. Masks and gloves are not required but are encouraged for those entering the facility. Main Street Duncan, Inc. visited with the open businesses regarding their policies and procedures and implementing new ones since the COVID-19 pandemic. Restaurants have marked off booths so customers can have ease as they return to eating inside establishments. Boutiques are steaming clothing items that are returned, cleaning dressing rooms regularly, and wiping off door handles and counters often. Similarly, doctors' offices are cleaning rooms and hand washing more often.
"We are open to the public but still offering appointment only for those who request the option" said Pam Bruehl of Prairie Rose Boutique, "and we are taking precautions to clean the store regularly and offering curbside to customers."
Curbside delivery is still available for all downtown restaurants. The Main Street Duncan, Inc. organization installed universal signage along the curbside to allow shoppers to call ahead and have the order delivered to the vehicle versus walking up to the door and knocking or calling. Social distancing is being acknowledged in all businesses with several stores and offices marking their floors with six foot distances. Many are offering masks, gloves, and hand sanitizer for customers or patients and have these items for retail employees to wear if a customer wishes. Restaurant and doctor office workers continue to wear gloves as they have done previously in the past.
"Every store has someone shopping or eating," Main Street Duncan Executive Director Destiny Ahlfenger said, "and we hope that means people are encouraged by the efforts of the small business owners to open their doors and use best practices for the health and safety of their employees, customers, and patients."
The Palace Theater will open their doors this weekend for the first time in several weeks. Several of the churches downtown have online services held at their website or Facebook pages. In the future, all of downtown will be open again but that decision is made by the business owner individually. As for the regularly scheduled Main Street activities like the car show and cruises, the committee is contemplating a date in June and will make a final decision by next Friday. Regularly checking the Main Street Duncan website at mainstreetduncan.net or visiting the Facebook page for information about events is encouraged.