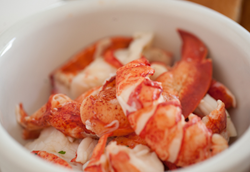 This deal has been made even sweeter as you will have the option to redeem the special within one year of purchase.
(PRWEB) August 15, 2013
The hot summer months sometimes make it too steamy to cook, which is why GetMaineLobster.com is offering specials on fresh-picked Maine lobster meat and easy-to-assemble Maine lobster rolls. Stay out of the heat and enjoy the fresh flavors of Maine by enhancing any meal with the succulent meat from Maine lobsters.
Every morning, fresh from the dock, lobsters are cooked, hand-picked and shipped directly to your doorstep. Maine lobster is the perfect addition to a variety of dishes, such as pastas or a refreshing salad. This week, for only $119.00, a discount of $30.00, GetMaineLobster.com will deliver two pounds of fresh-picked Maine lobster meat. For larger groups, enjoy four pounds of Maine lobster meat for $169.00, a discount of $60.00 off of the standard price. Shipping is included.
For lobster roll lovers, nothing beats Get Maine Lobster's traditional Maine lobster roll kits. The fresh lobster meat is pre-mixed using the more than 100-year-old Darling family recipe. For only $89.00, discounted from $149.00, GetMaineLobster.com will deliver six buns and one pound of fresh Maine lobster meat. This is the fast, easy and affordable way to enjoy the best Maine lobster rolls at home. They make a popular gift, as well! Simply grill the bun and enjoy! This deal has been made even sweeter as you will have the option to redeem the special within one year of purchase.
GetMaineLobster.com adds new recipes each week so seafood lovers can explore a number of ways to enhance their dining experience by adding fresh-picked Maine lobster, such as Surf and Turf lettuce wraps or the Get Maine Lobster Citrusy Salad with Wild Arugula! Learn more about Get Maine Lobster's wide range of seafood offerings, access lobster and seafood recipes, and view current specials by visiting GetMaineLobster.com or by calling (866) 562-4817. Stay updated and Like us on Facebook or follow us on Twitter. For even more lobster news and recipes go to JustAddLobster.com.
About GetMaineLobster.com
GetMaineLobster.com, a division of Black Point Seafood and Black Point Gourmet, hand-selects the finest Maine lobster, seafood and beef products for convenient distribution throughout the United States. Their passion is to make fresh, quality seafood readily available to customers across the country, which is why they buy from only the most trusted, well-established suppliers to ensure that they receive the finest products available.
GetMaineLobster.com was selected out of the more than four million small American businesses served by Chase bank to represent its new Platinum Business Checking product for its 2013 national advertising campaign.