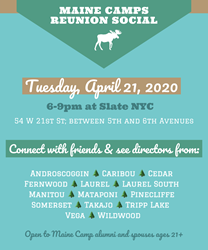 People loved their Maine Camp experiences and they're excited to reconnect at the NYC Reunion Social with the friends and directors who help shaped their lives.
PORTLAND, Maine (PRWEB) February 12, 2020
More than one thousand alumni from 14 Maine Camps are anticipated to come together this spring in New York to reconnect with camp friends and camp directors at the Maine Camps NYC Reunion Social. The event is being held at Slate NY (54 W. 21st St, NYC) on April 21 from 6-9pm and is for alumni 21+ and their spouses. To register, people can log on to: https://mainecampsreunionsocial.splashthat.com
The participating camps are: Androscoggin, Caribou, Cedar, Fernwood, Laurel, Laurel South, Manitou, Mataponi, Pinecliffe, Somerset, Takajo, Tripp Lake, Vega, and Wildwood.
"Since the NYC Reunion Social was announced by Maine Camp Experience and all the participating camps, there's been tremendous buzz and excitement on social media and beyond," said Laurie Kaiden, Director, Maine Camp Experience. "People loved their camp experience and the friendships they made in their formative years in Maine, and they are excited to reconnect with the people who helped shaped their lives."
The common thread among the camps are that they are all located in the beautiful state of Maine, and that the directors all know each other through Maine Camp Experience and other camp connections. Many of these camps jointly hold socials, intercamp sports competitions, brother/sister days, and social action initiatives, so campers are bonded with friends from the camps they themselves attended, and also the network of Maine camps that come together throughout every summer.
The camp directors are anticipating that the Maine Camps NYC Reunion Social will attract attendees from multiple generations of campers, spanning the many decades that Maine Camps have provided such meaningful experiences.
All of the alumni have experienced the magic of overnight summer camp in Maine. Each of these camps is situated on a beautiful, natural lake and provides campers with top-notch activities, instruction, facilities, trips and traditions. Campers connect with nature, make lifelong friendships, have fun, learn new skills, and gain confidence and independence. Maine Camps offer scenic environs, temperate climates, and great geographic diversity of campers and staff who come from every US state and more than 30 countries abroad.
Many campers who meet as kids at camp remain connected through college, careers, marriages, and more. Bunkmates become college roommates, business partners, groomsmen and bridesmaids, and beyond. The bonds made from living together in camp truly last a lifetime! Many alumni have Maine Camps in their family for generations where a grandparent, parent, and child can all bond about the songs they sang, the trips they took throughout Maine, and the memorable activities and traditions.
All 14 camps are affiliated with Maine Camp Experience, a community of premier overnight Maine summer camps and a comprehensive planning resource. The site mainecampexperience.com helps families find their best camp and features a Select-A-Camp tool and the Campcierge™ who provides free, personalized, expert guidance.
Media are invited to speak with Laurie from Maine Camp Experience, the owner/directors of the 14 participating camps, and alumni to learn more about the upcoming event and: what camp is like in Maine, the lifelong friendships made at Maine Camps, generations of families who have attended these camps, and the 21st century skills learned at camp in Maine.