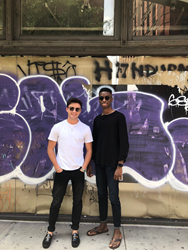 CLEVELAND (PRWEB) January 10, 2020
Mad Rabbit's winning product can be credited to the support and formulation knowledge of Oliver's mother, who has years of homeopathic expertise from managing a holistic apothecary. Their all-natural formulation outperformed the other chemical-ridden tattoo products on the market in early focus group testing. With this competitive edge, the two Miami University seniors decided to enter the marketplace. The pair quickly discovered that in the area of skincare and tattoo healing their all-natural tattoo aftercare outperformed the current products available.
Sales began to pour in immediately after online launch, leaving Oliver and Selom with the undeniable feeling that they were on to something special. With six figures in sales in under a year, the success was apparent. Their senior year of college served as a testament to the business's success, with increasing demand in the market. "On some days, we spent +12 hours mixing, cooking, and preparing our product, with backorders we still couldn't fill immediately." - Selom Agbitor - co-founder Mad Rabbit Tattoo.
Mad Rabbit All Natural Tattoo Balm is formulated with all-natural, locally sourced, and organic ingredients from the greater Los Angeles area. "My mom was the primary force behind the perfect mixture, leveraging her years as the manager of an all-natural apothecary. With my mother's formulation expertise, we found that we were able to achieve peak performance with 7 key natural ingredients."
The exact Mad Rabbit Tattoo balm formula is proprietary information, however, it has natural: shea butter, cocoa butter, beeswax, calendula oil, sweet almond oil, lavender, and frankincense. There is great intent behind each ingredient chosen for the tattoo balm. Each one has specific healing and nourishing properties individually. The magic occurs when these powerful ingredients are combined. "What a breakthrough for a product that actually works and replenishes faded tattoos; it really brings the artwork to life." - Tattoo Connoisseur
The Mad Rabbit Team wasted no time in setting up cost-effective manufacturing plants and distribution centers nationally, and they quickly shifted their attention towards marketing their winning product to the world. Mad Rabbit soon after hired a professional marketing team to support their organic growth efforts. Sales and logistics are one thing, but their customer base was raving about the effective nature and comfort of the balm-- and the world needed to hear about it. "People spend a lot of money on their tattoos, and they want their vibrant colors to last." - Tattoo Artist.
Jason J says "Tattoo reviving- 1st class. Makes all Tattoos really stand out and fresh. [It's a] shame there no UK supplier to turn to rather than waiting a week or 2 for delivery from the USA." Feel free to view more of the verified Mad Rabbit Tattoo Butter Customer Testimonials at the bottom of the product page.
"All tattoos fade no matter the amount of money you spend on them... We wanted to create a product that would help tattoo fanatics wear their ink more proudly, for much longer." - Oliver Zak -co-founder Mad Rabbit Tattoo
Revitalize, replenish, and preserve your body art with the hottest tattoo balm on the market. Effective on both new & old tattoos. "Our packaging is very intentional. We used metal tins to prevent outside contaminants from entering the product, while cutting down on plastic waste. We wanted a healthy, all-natural product that our customers would love.." Selom Agbitor - co-founder Mad Rabbit Tattoo.
Mad Rabbit is offering a monthly subscription starting at $5 for the first month. The subscription allows customers to experience the Mad Rabbit Tattoo aftercare difference at more than half off the normal price!
Click here to take part in the monthly subscription program and begin rejuvenating your tattoos with Mad Rabbit.
MESSAGE FROM THE FOUNDERS
Mad Rabbit was founded by two brothers with a passion for ink. The pair found an opportunity to create a superior natural healing balm to help improve the healing process and built a brand we felt artists and clients can vibe with. The main goal was to get rid of all unnatural and processed ingredients you'd find in a traditional moisturizer, and decided to return to the basics of simple, natural ingredients. Motivated by the challenge, they set out on a mission to create the best performing tattoo balm in the business. Mad Rabbit promotes individuality, adventure, and anything badass.