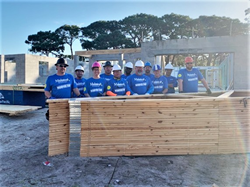 It's very special to know that the skills we use every day at MaintenX are being put to use to create a home for a deserving family.
TAMPA, Fla. (PRWEB) February 11, 2020
Team members from MaintenX International donned their matching shirts and safety gear and got to work creating a home for the Ross family. On February 10, nearly a dozen members of the MaintenX Team began work on their Habitat home. Volunteers made progress onsite, working hard framing the interior walls that would support the roof and create the rooms of the house, as well as preparing trusses. Getting onsite allowed volunteers to continue the excitement that began with an official Build Kick Off last month.
MaintenX is able to sponsor the Ross's home in West Florida through the Habitat for Humanity Pinellas and West Pasco chapter. After a successful home build in 2019, MaintenX decided to step up their commitment for their 2020 home build by becoming the subcontractor for the home. In lieu of providing labor for Habitat supervised construction teams, MaintenX wanted full control of their specialty trades and to leverage their in-house expertise. Working with the Habitat team, MaintenX was able to officially become their plumber, roofer, framer, HVAC and finish carpentry subcontractor.
"After our first team build, we knew we wanted to be even more involved in every aspect of the project," said Bill Schaphorst, MaintenX's VP of Business Development. "It's very special to know that the skills we use every day at MaintenX are being put to use to create a home for a very special family."
For Lashawn Ross, who has three young children, her excitement is about more than just having a house where her family will be safe. It is also an excitement about creating a home that her children are proud of.
"My kids are so excited about having their own room and space. They will be able to invite their friends over and not be ashamed," said Ross.
With a goal to have the Ross family's home dedication in early spring, there is still much work to be done for MaintenX. As a subcontractor, MaintenX will be managing major elements of construction like plumbing, HVAC, and roofing. MaintenX team members will also continue to provide volunteer assistance with hands-on work like framing, painting, cabinet installation, door and window installation and interior trim work.
It is a one-story ranch home that will be energy Star compliant located in the Tellor Estates Neighborhood in Pinellas Park, FL. The Home will feature four bedrooms and two bathrooms, giving each of the kids their own room!
Schaphorst noted that giving back is part of the culture at MaintenX. Whether team members are improving their community through volunteering Habitat for Humanity hours, participating in charity fun runs, collecting toys for Salvation Army Angel Tree families, or offering repairs to schools in need in Puerto Rico, MaintenX knows that supporting their community members is at the heart of their success.
To learn more about MaintenX and their commitment to their community, visit http://www.maintenx.com.
ABOUT MAINTENX INTERNATIONAL:
MaintenX International is a fully licensed, facilities repair company. As one of the largest national self-performing facility maintenance and repair companies in the U.S., MaintenX has created a wide network of knowledgeable and professional technicians throughout the country. With their team of well-trained technicians, MaintenX self-performs and manages facility maintenance for their clients. In the event there is not a MaintenX technician in an area, the company has established a network of preferred vendor partners throughout the country for continued superior service for their clients. For more than 40 years, MaintenX has been expertly serving multi-location retail stores, restaurant chains and Fortune 500 companies nationwide.