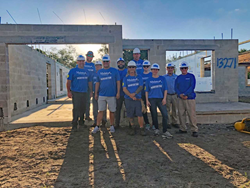 Service to the community is part of the culture at MaintenX.
TAMPA, Fla. (PRWEB) April 10, 2019
MaintenX International, one of the largest facility maintenance and repair companies in the nation, has started to build the Habitat for Humanity home they sponsor in Largo, Fla. The home build began today and will last about eight weeks. Over that time, more than 130 MaintenX employees will volunteer more than 1,000 hours in constructing the home - five times the amount required from sponsor organizations.
MaintenX team members expect to spend a full three weeks onsite, helping build and prepare the home alongside Monique Woodard, the home's recipient. Additionally, leadership from North Carolina will arrive to help build in late April, while MaintenX's California team members will be flying in to help with construction on May 21 and 22. MaintenX will provide lunch for employees on all build days and team volunteers will look their best in #MaintenXGives shirts.
"Each day our team is out in the field making sure facilities have everything they need for their plumbing, HVAC and roofs to work properly," said Bill Schaphorst, MaintenX's VP of Development. "It's awesome that our team is able to use those same skills to give a deserving family the gift of a forever home."
Woodard is participating through the Habitat for Humanity of Pinellas and West Pasco chapter. She has completed more than 350 of the 450 required sweat equity hours; the remaining hours will be finished with the MaintenX team. Additionally, she only has one more home-ownership class and two more payments to fully cover her down payment costs. MaintenX is proud to serve alongside her.
Service to the community is part of the culture at MaintenX. In addition to giving back locally, MaintenX has been providing superior service to customers across the U.S. for more than 40 years. To learn more about MaintenX, visit http://www.maintenx.com.
About MaintenX International:
MaintenX International is a fully licensed, facilities repair company. As one of the largest national self-performing facility maintenance and repair companies in the U.S., MaintenX has created a wide network of knowledgeable and professional technicians throughout the country. With their team of well-trained technicians, MaintenX self-performs and manages facility maintenance for their clients. In the event there is not a MaintenX technician in an area, the company has established a network of preferred vendor partners throughout the country for continued superior service for their clients. For more than 40 years, MaintenX has been expertly serving multi-location retail stores, restaurant chains and Fortune 500 companies nationwide.