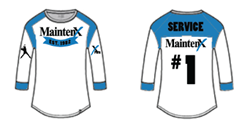 We're always looking for new ways to engage our staff and let them show their creative side.
TAMPA, Fla. (PRWEB) August 23, 2018
MaintenX International has announced the winners of their T-Shirt Design Contest. While all participants received a prize for their submission, the top three winners received hundreds of dollars in cash prizes and the opportunity to have their design brought to life and worn by employees across the nation. Top prize winners were Sueng Hee Brown, Theodis Jones and Niuber Hernandez.
First Prize winner, Sueng Hee Brown, will take home $500. Her winning design uses a classic baseball tee design, with MaintenX proudly emblazoned across the front and all team members wearing the number one. The competition was the first shirt design competition that MaintenX has hosted.
"MaintenX enjoys providing fun and imaginative competitions for our employees," said Bill Schaphorst, MaintenX's VP of Business Development. "For example, we've had painting contests and hung winning pieces in our hallways. We're always looking for new ways to engage our staff and let them show their creative side."
Creative competitions are just one of the great perks of being part of the MaintenX team. MaintenX employees also enjoy benefits like medical, dental and vision insurance, 401(k) options with 5 percent match and immediate vesting, as well as paid vacations and holidays. There are also unique onsite benefits like a gym, kitchen and bi-weekly sponsored lunches.
As one of the nation's largest providers of preventative and reactive maintenance, MaintenX is committed to their employees from coast to coast. For more information about MaintenX, or to learn about joining the MaintenX team, visit http://www.maintenx.com.
About MaintenX International
MaintenX International is a fully-licensed, facilities repair company. They are one of the largest national self-performing facility maintenance and repair companies in the U.S. MaintenX has created a network of knowledgeable and professional technicians throughout the country. With their team of well-trained technicians, MaintenX self-performs and manages facility maintenance for clients. In the event there is not a MaintenX technician in the area, the company has fostered a network of preferred vendor partners throughout the country to provide superior service for their clients. For more than 35 years, MaintenX has been expertly serving multi-location retail stores, restaurant chains, and Fortune 500 companies nationwide.