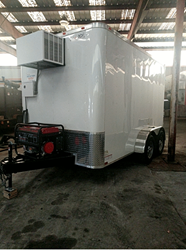 It can be easy to overlook how much refrigeration impacts our day-to-day life, and therefore how quickly things can go wrong without it.
TAMPA, Fla. (PRWEB) June 26, 2019
What do restaurants, data centers and pharmacies have in common? They all rely on refrigeration to ensure the safety of their customers. That's why MaintenX is celebrating the inaugural World Refrigeration Day and the importance of refrigeration technologies. From minor repairs to emergency refrigeration services, MaintenX is ready to help their customers keep their refrigeration systems in top shape.
"When you rely on refrigeration for consumer safety, it must operate 100 percent of the time," said MaintenX's VP of Business Development Bill Schaphorst. "Through proper maintenance and equipment checks, you can keep your system running smoothly and have a plan in case there's an unexpected loss of service."
The best way to ensure your refrigeration system is working properly is by implementing a preventative maintenance plan. This may include checking the system's temperature inside the refrigeration unit and inspecting the discharge, liquid and suction lines in the condensing unit. Facility managers can prepare a thorough maintenance plan for their refrigeration systems with one of MaintenX's knowledgeable technicians, who'll ensure the plan is comprehensive and customized to each system.
"It can be easy to overlook how much refrigeration impacts our day-to-day life, and therefore how quickly things can go wrong without it," said Schaphorst.
Addressing issues in a timely matter is important because excessive temperatures can quickly endanger health and finances. For example, restaurants typically have about four hours to restore temperature settings before food must be thrown out. This time frame can be even shorter during hotter months.
If a system totally fails, MaintenX is able to provide emergency refrigeration trailers with ample storage for perishable and heat-sensitive goods. If there's an unexpected power outage, MaintenX's Super Service Heroes can deliver a commercial generator and fuel services to keep systems up and running until service is restored.
To learn more about MaintenX, visit http://www.maintenx.com.
ABOUT MAINTENX INTERNATIONAL:
MaintenX International is a fully licensed, facilities repair company. As one of the largest national self-performing facility maintenance and repair companies in the U.S., MaintenX has created a wide network of knowledgeable and professional technicians throughout the country. With their team of well-trained technicians, MaintenX self-performs and manages facility maintenance for their clients. In the event there is not a MaintenX technician in an area, the company has established a network of preferred vendor partners throughout the country for continued superior service for their clients. For more than 40 years, MaintenX has been expertly serving multi-location retail stores, restaurant chains and Fortune 500 companies nationwide.