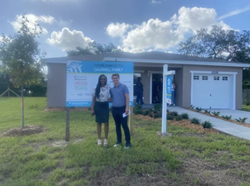 "We enjoy serving facilities of all sizes and kinds, but our MaintenX Gives projects let us touch individual lives in a truly meaningful way," said O'Hara. "We love our community, so we love giving back to it; it's that simple."
TAMPA, Fla. (PRWEB) July 01, 2021
MaintenX International was founded in Tampa and has been involved in the local community for over 40 years. The company funds charitable projects around the Tampa Bay Area through its MaintenX Gives initiative, and most recently celebrated the dedication of the Caldwell family home in collaboration with Habitat for Humanity of Pinellas & West Pasco.
MaintenX Gives donated funds towards the Caldwell home at the Habitat Havana Nights Event in April, and MaintenX sales executive Chas O'Hara was at the home dedication to welcome the Caldwell family home. As part of the celebration, MaintenX also provided a commitment to install a garage door opener when the Caldwells are ready.
"We enjoy serving facilities of all sizes and kinds, but our MaintenX Gives projects let us touch individual lives in a truly meaningful way," said O'Hara. "We love our community, so we love giving back to it; it's that simple."
MaintenX donated funds for an additional home build at the Havana Nights event, and are pleased to announce that the home will go to the Gil family. Chrisnely Gil and daughter Bianca currently spend over half their income on rent for their two-bedroom apartment in Pinellas County, FL., and MaintenX is thrilled to be partnering with Habitat to give them an affordable place to call home! The house is on track to be dedicated before the end of the year.
MaintenX CEO JC Gonzalez, President Brett Herman, and VP of Business Development Bill Schaphorst also participated in the annual CVS Charity Classic golf event on June 24th and 25th. The annual tournament, whose mission is to give back to the community and aid charitable organizations that focus on helping the community year-round, was held in-person after raising more than $1.5 million in its virtual form last year. Donations provided by the CVS Health Charity Classic provide vital funding to a range of programs serving children and families. 2021 marks the 18th consecutive year that MaintenX has been involved in this important fundraiser, and the company is proud of its long-term involvement and the benefits provided to those in need.
Tampa-based MaintenX has been providing quality commercial maintenance services to restaurants and businesses of all sizes nationwide for more than 40 years. To learn more about their services and history of excellence, visit https://maintenx.com/.
ABOUT MAINTENX INTERNATIONAL:
MaintenX International is a fully licensed, facilities repair company. As one of the largest national self-performing facility maintenance and repair companies in the U.S., MaintenX has created a wide network of knowledgeable and professional technicians throughout the country. With their team of well-trained technicians, MaintenX self-performs and manages facility maintenance for their clients. In the event there is not a MaintenX technician in an area, the company has established a network of preferred vendor partners throughout the country for continued superior service for their clients. For more than 40 years, MaintenX has been expertly serving multi-location retail stores, restaurant chains and Fortune 500 companies nationwide.