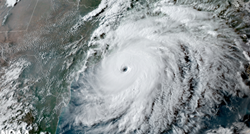 "A well-maintained facility with a disaster plan is at lower risk of storm damage," said MaintenX VP of Business Development Bill Schaphorst. "Every facility should ensure their infrastructure is in working order ahead of hurricane season, and have a plan that encompasses various storm scenarios."
TAMPA, Fla. (PRWEB) June 02, 2021
Before it became one of the nation's largest providers of facility maintenance for commercial buildings, MaintenX International was founded more than 40 years ago in Tampa, Florida. Because of that, the company has extensive experience with hurricane preparedness, emergency maintenance, and recovery operations. Hurricane season has officially begun on June 1st, as MaintenX urges businesses in areas vulnerable to severe storms to emphasize preparedness to reduce their risk.
Hurricanes and severe storms carry with them a multitude of dangers, including wind-hurled debris that can pierce windows and walls, falling trees that can breach roofs, storm surges that can inundate buildings, and power failures that can incapacitate entire facilities. Facility managers can mitigate these risks, however, through smart planning and preventative maintenance.
"A well-maintained facility with a disaster plan is significantly less vulnerable to storm damage," said MaintenX VP of Business Development Bill Schaphorst. "Every facility should ensure their infrastructure is in optimal working order ahead of hurricane season – and have a plan that encompasses various storm scenarios."
NOAA's Climate Prediction Center has forecasted 2021 to be an above-normal season, although not to the historically high levels seen in 2020. They predict a range of between 13 and 20 named storms, 6 to 10 of which could become hurricanes.
To prepare for the season, MaintenX recommends performing extensive preventative maintenance on all HVAC systems, roofing, and backup power, as well as exterior doors and windows. As storms approach, MaintenX technicians can help safeguard facilities with sandbagging and backup generator services. For businesses with special needs, MaintenX can quickly swing into action with refrigerated trucks, generators, and fuel deliveries.
MaintenX has been providing quality commercial maintenance services to businesses of all sizes in good and bad weather for more than 40 years. To learn more about their hurricane preparedness and response options, visit https://maintenx.com/.
ABOUT MAINTENX INTERNATIONAL:
MaintenX International is a fully licensed, facilities repair company. As one of the largest national self-performing facility maintenance and repair companies in the U.S., MaintenX has created a wide network of knowledgeable and professional technicians throughout the country. With their team of well-trained technicians, MaintenX self-performs and manages facility maintenance for their clients. In the event there is not a MaintenX technician in an area, the company has established a network of preferred vendor partners throughout the country for continued superior service for their clients. For more than 40 years, MaintenX has been expertly serving multi-location retail stores, restaurant chains and Fortune 500 companies nationwide.