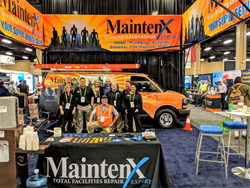 SPECS provides a unique opportunity for MaintenX to share its vision for providing value to retail properties from coast to coast.
TAMPA, Fla. (PRWEB) February 26, 2019
Despite the rising prominence of online retailers, it's important to recognize the lasting importance of brick-and-mortar stores. Each year, SPECS brings together leaders in physical retail to share ideas, learn about industry trends and form lasting business partnerships. MaintenX International has announced they will be attending SPECS 2019 in Dallas, Texas from March 3 - 5, bringing over 40 years of preventative and reactive maintenance knowledge to the trade show.
"At MaintenX, we invest in our construction resources and leadership," said Bill Schaphorst, MaintenX's VP of Business Development. "The timing is right to let the Retail Construction Community know about our new capabilities and how we can manage their construction and project needs in the state of Florida."
SPECS provides a unique opportunity for MaintenX to share its vision for providing value to retail properties from coast to coast. While sales and production can impact the bottom line of a retail store, maintenance costs are a critical component of meeting the year's revenue goals. By engaging in regularly scheduled maintenance like HVAC inspection and roofing assessments, retailers can reduce the likelihood of costly emergency repairs.
However, if something unexpectedly goes wrong, like water infiltration, plumbing problems or an unexpected power outage, MaintenX's team of knowledgeable technicians can be ready at a moment's notice to help fix the problem. In the last 18 months MaintenX has made considerable investments in industrial generators, fueling trucks and sandbagging equipment to ensure their customers are prepared for extreme weather.
MaintenX is excited for the opportunity at this year's SPECS trade show to connect with facility managers and engage in high-quality face-to-face interactions, as well as to take back exciting new best practice information from breakout sessions and keynote speakers.
Each day, MaintenX strives to provide best-in-class customer care and superior maintenance services to physical retail facility managers across the nation. To learn more about MaintenX, visit http://www.maintenx.com.
ABOUT MAINTENX INTERNATIONAL:
MaintenX International is a fully licensed, facilities repair company. As one of the largest national self-performing facility maintenance and repair companies in the U.S., MaintenX has created a wide network of knowledgeable and professional technicians throughout the country. With their team of well-trained technicians, MaintenX self-performs and manages facility maintenance for their clients. In the event there is not a MaintenX technician in an area, the company has established a network of preferred vendor partners throughout the country for continued superior service for their clients. For more than 40 years, MaintenX has been expertly serving multi-location retail stores, restaurant chains and Fortune 500 companies nationwide.