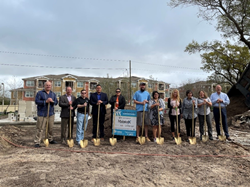 "I know our home will be a place of joy and comfort that is filled with love." - Michael Horton
TAMPA, Fla. (PRWEB) March 05, 2021
MaintenX International has announced their fourth Habitat for Humanity home build sponsorship and celebrated at a ground-breaking ceremony Wednesday. The sponsorship allows the Hortons, a local Pinellas County family, to become home-owners in Clearwater, Fla.
"Homeownership is so much more than owning four walls and a roof," said Bill Schaphorst, MaintenX's VP of Business Development. "It is having a place to call home, with all the joys that the word can conjure. Homes are where memories are made and where you can feel safe, supported and loved. We are excited to help make it possible for the Hortons to have a home of their own."
Michael and Shanel Horton are a hard-working couple with three young daughters. While they both work hard to make a great life for their family, rising rents and a highly competitive housing market made it difficult to find an affordable home.
As part of the Habitat for Humanity Homeownership program, the Hortons will be asked to complete a series of homeownership classes and save $1,000 for a down payment. After the couple completes these requirements, they will be able to purchase their home with a zero-interest mortgage. The Hortons know this is a special opportunity to grow as a family.
"Home is where we get to be ourselves and relax from the chaos of the world. Habitat allows us this opportunity to own a home, and we are so thankful," Michael said. "I know our home will be a place of joy and comfort that is filled with love."
MaintenX will help make the Horton's home a reality by donating their time as well as treasure. Team members will provide on-site volunteer assistance beginning April 1st with the goal of completing the construction of the three-bed, two-bath house in May.
"Our team has already filled all of the available volunteer opportunities and are looking forward to getting back out on site, after our efforts were cut short by the Covid-19 pandemic during last year's build," said Schaphorst. "MaintenX will be assisting with all outdoor activities from priming and painting to hurricane shutters and landscaping."
For more than 40 years, MaintenX has been caring for their local community. To learn more about MaintenX and their commitment to giving back, visit http://www.maintenx.com.
ABOUT MAINTENX INTERNATIONAL:
MaintenX International is a fully licensed, facilities repair company. As one of the largest national self-performing facility maintenance and repair companies in the U.S., MaintenX has created a wide network of knowledgeable and professional technicians throughout the country. With their team of well-trained technicians, MaintenX self-performs and manages facility maintenance for their clients. In the event there is not a MaintenX technician in an area, the company has established a network of preferred vendor partners throughout the country for continued superior service for their clients. For more than 40 years, MaintenX has been expertly serving multi-location retail stores, restaurant chains and Fortune 500 companies nationwide.