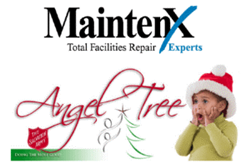 It is always a gift to be able to give back to the community, and this year MaintenX feels especially lucky to be able to help Tampa Bay area families in such a special way.
TAMPA, Fla. (PRWEB) October 23, 2020
This winter, MaintenX International is looking forward to making holiday wishes come true for Salvation Army Angel Tree children by answering their holiday wish lists. This is the third year that MaintenX has helped local families to ensure they have gifts under the tree on Christmas morning.
Due to heightened cleaning and social distancing protocols, the Salvation Army is beginning their holiday toy drive early to ensure ample time for gift selection and delivery. MaintenX employees have already stepped up to meet the year's increased need for gifts, with 120 children sponsored so far.
"It is always a gift to be able to give back to the community, and this year MaintenX feels especially lucky to be able to help Tampa Bay area families in such a special way," said Bill Schaphorst, MaintenX's VP of Business Development. "Every child should know the joy of finding a surprise under the tree during the holidays. We're thrilled the MaintenX team is ready and willing to support so many kids around our region."
MaintenX will match each employee sponsored angel with an additional sponsored angel and hopes to match their number from last year. In 2019, 140 children had their holiday wishes come true, and MaintenX collected so many toys, bikes, and supplies that they needed 5 vehicles from their fleet to deliver the gifts to the Salvation Army in St. Petersburg, FL.
"We know we are incredibly lucky to have team members that care so much about the children in their community," said Schaphorst.
The Salvation Army's Angel Tree program allows donors to select a tag from a tree that list items a child wants, as well as items they need like clothes, shoes or diapers. Each tag represents a child from a family that is unable to provide gifts and clothing to their children during the holidays.
Children available to sponsor range in age from newborn to 16 years old. In previous years, the most wished for items for the holidays have been bicycles and tablets. The MaintenX team is looking forward to finding out what hot items will be on wish lists for the 2020 season!
Safety is a top priority this year and the Salvation Army is taking extra precautions to make sure everything goes according to plan for Angel Tree families. In fact, gifts are due back a few weeks early this year to ensure all items can be properly sanitized. Closer to Christmas, the Salvation Army will arrange time for Angel Tree parents and guardians to safely receive their child's gifts, in addition to food items for Christmas Dinner, helping to ensure a merry holiday season for every family.
MaintenX is glad to be able to take a moment as the holiday season approaches to invest back in members of the Tampa community. To learn more about MaintenX and the full range of services they provide, visit http://www.maintenx.com.
ABOUT MAINTENX INTERNATIONAL:
MaintenX International is a fully licensed, facilities repair company. As one of the largest national self-performing facility maintenance and repair companies in the U.S., MaintenX has created a wide network of knowledgeable and professional technicians throughout the country. With their team of well-trained technicians, MaintenX self-performs and manages facility maintenance for their clients. In the event there is not a MaintenX technician in an area, the company has established a network of preferred vendor partners throughout the country for continued superior service for their clients. For more than 40 years, MaintenX has been expertly serving multi-location retail stores, restaurant chains and Fortune 500 companies nationwide.