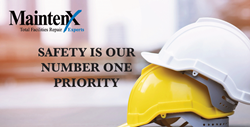 'At MaintenX, we know that safety doesn't happen by accident. That's why we are excited to celebrate a year of safety.' - Bill Schaphorst
TAMPA, Fla. (PRWEB) February 19, 2020
MaintenX is proud to announce they have achieved more than 365 consecutive days without reported lost time incident. February 11th marked a full year without incident for the Tampa-based preventative and reactive maintenance provider.
MaintenX strives to keep every worksite as safe as possible, but knows safety is a result of the dedication of their technicians and staff. This year, MaintenX further invested in their culture of safety by promoting two employees to safety managers, Fleet & Safety Manager Dan Fish and Quality Assurance & Safety Manager Ismael Rios.
"At MaintenX, we know that safety doesn't happen by accident. That's why we are excited to celebrate a year of safety," said Bill Schaphorst, MaintenX's VP of Business Development. "Team MaintenX's commitment to working safely is more than just avoiding inconvenience or lost time, it's about making sure every employee gets to go home, enjoy their family and things that matter, without pain or worry."
Day in and day out, MaintenX provides a variety of services including installation and removal of electrical, plumbing, HVAC and roofing. Such activities can be dangerous if not performed correctly or with the proper safety equipment. That's why MaintenX provides a safety kit that includes safety glasses, gloves, a high-visibility vest and a gift certificate for their choice of steel-toed boots – all for free – to all technicians.
MaintenX's safety managers provide an additional layer of safety education and oversite for MaintenX team members. Each manager takes on different responsibility for employee safety. Fish is focused helping all MaintenX employees become more aware of safety issues and how to stay safe. Rios is active on worksites, providing site check-ins that involve crew audits, safety practice evaluation and assessments of work quality.
As an organization that has provided reactive and preventative maintenance service to facility managers from coast to coast for more than 40 years, MaintenX knows that safety and customer satisfaction are the key ingredients for lasting success. To learn more about MaintenX and the services they provide, visit http://www.maintenx.com.
ABOUT MAINTENX INTERNATIONAL:
MaintenX International is a fully licensed, facilities repair company. As one of the largest national self-performing facility maintenance and repair companies in the U.S., MaintenX has created a wide network of knowledgeable and professional technicians throughout the country. With their team of well-trained technicians, MaintenX self-performs and manages facility maintenance for their clients. In the event there is not a MaintenX technician in an area, the company has established a network of preferred vendor partners throughout the country for continued superior service for their clients. For more than 40 years, MaintenX has been expertly serving multi-location retail stores, restaurant chains and Fortune 500 companies nationwide.