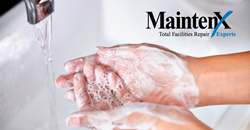 This year more than ever, the 20 seconds you spend washing your hands can literally save lives – and it's all thanks to plumbing
TAMPA, Fla. (PRWEB) December 09, 2020
COVID-19 has turned previously innocuous activities into a serious matter of health. From shaking a new acquaintance's hand to planning indoor gatherings, any actions involving interpersonal interaction have taken on a new importance. At the top of that list is something that everyone does every day – handwashing. Practicing this basic act of hygiene correctly can have a huge impact on public health, which is what National Handwashing Awareness Week highlights. MaintenX International provides top-of-the-line plumbing services to commercial facilities around the country, facilitating handwashing coast-to-coast.
"We are proud to install and maintain the infrastructure that supports sound public health practices," said MaintenX VP of Development Bill Schaphorst. "This year more than ever, the 20 seconds you spend washing your hands can literally save lives – and it's all thanks to plumbing."
CDC guidelines recommend washing your hands for 20 seconds with soap and warm water. Since the pandemic, 90% of Americans report handwashing more frequently, longer, or more thoroughly. COVID has also sparked a surge in installations of touchless bathroom fixtures, as another way to avoid spreading the virus.
MaintenX has been installing and maintaining every kind of commercial plumbing infrastructure for more than 40 years. To learn more about them and the services they provide, visit http://www.maintenx.com or call 855-751-0075.
ABOUT MAINTENX INTERNATIONAL:
MaintenX International is a fully licensed facilities repair company. They are one of the largest national self-performing facility maintenance and repair companies in the U.S. MaintenX has created a network of knowledgeable and professional technicians throughout the country. With their team of well-trained technicians, MaintenX self-performs and manages facility maintenance for clients. In the event there is not a MaintenX technician in the area, the company has fostered a network of preferred vendor partners throughout the country to provide superior service for their clients. For more than 40 years, MaintenX has been expertly serving multi-location retail stores, restaurant chains, and Fortune 500 companies nationwide.