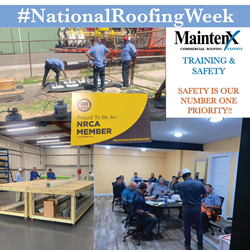 "Whether in Montana blizzards or Florida hurricanes, commercial facilities need strong, well-maintained roofs," said MaintenX VP of Business Development Bill Schaphorst. "I'm so glad the United States Congress has given the roofing industry the official recognition it deserves."
TAMPA, Fla. (PRWEB) August 27, 2020
Every hurricane season, facility managers in the southern and southeastern United States are reminded of the vital importance of roofing. But at the height of this year's hurricane season, Representative Raja Krishnamoorthi (D-IL) made sure that awareness went national by sponsoring congressional recognition of National Roofing Week. Headquartered in Tampa, Florida, MaintenX International has decades of experience in roofing and is proud to join the National Roofing Contractors Association (NRCA) in observance of the Week.
"Whether in Montana blizzards or Florida hurricanes, commercial facilities need strong, well-maintained roofs," said MaintenX VP of Business Development Bill Schaphorst. "I'm so glad the United States Congress has given the roofing industry the official recognition it deserves."
In addition to raising awareness of the importance of roofs and the roofing industry, National Roofing Week also draws attention to the importance of hiring licensed professional roofing contractors like the ones at MaintenX, who can help you make informed decisions about your roofing needs.
It is never too late to draw up a preventative maintenance plan, or to schedule a roofing checkup and consultation with the professionals at MaintenX. Doing so will stand you in good stead through good weather and bad!
For more information about MaintenX, or to learn more about the services they offer, visit http://www.maintenx.com.
ABOUT MAINTENX INTERNATIONAL:
MaintenX International is a fully licensed, facilities repair company. As one of the largest national self-performing facility maintenance and repair companies in the U.S., MaintenX has created a wide network of knowledgeable and professional technicians throughout the country. With their team of well-trained technicians, MaintenX self-performs and manages facility maintenance for their clients. In the event there is not a MaintenX technician in an area, the company has established a network of preferred vendor partners throughout the country for continued superior service for their clients. For more than 40 years, MaintenX has been expertly serving multi-location retail stores, restaurant chains and Fortune 500 companies nationwide.