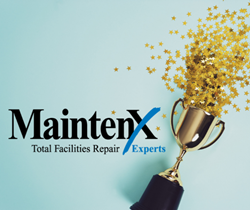 It's a truly incredible time to be a sports fan in Tampa Bay and we feel very lucky to have our home office located in such a wonderful community.
TAMPA, Fla. (PRWEB) January 27, 2021
MaintenX International has called Florida's Gulf Coast home for more than 40 years and is proud to celebrate all the wonderful things the region has to offer. There's even more to celebrate this year thanks to local sports. All of Tampa Bay's major sports teams have reached the championship game in their respective leagues.
"The Lightning won the Stanley Cup, the Rays played in the World Series, the Rowdies made it to the USL Championship game, and the Bucs are now Super Bowl-bound," said Bill Schaphorst, MaintenX's VP of Business Development. "It's a truly incredible time to be a sports fan in Tampa Bay and we feel very lucky to have our home office located in such a wonderful community."
Founded in Tampa, MaintenX has its headquarters near downtown in an old cigar factory. While historians differ on whether the location was home to the San Martin & Leon or Gil C.M. Cigar Company, MaintenX's building was part of Tampa Bay's history as a mecca for cigars. Cigar rollers that worked in these factories were skilled workers that trained hard for their role, similar to the way MaintenX's technicians train for their important role maintaining and repairing facilities throughout the region and how Tampa Bay's athletes train to be top in their sport.
MaintenX team members embrace the history of their headquarters but know it's also important to be part of the current excitement of their community. That's why MaintenX leadership encourages team members to share their team loyalties at fun events like catered lunches and spirit competitions, as well as constantly looking for ways to give back to their community, whether it be building homes for Habitat for Humanity or sponsoring gifts for children through the Salvation Army.
"When you call Tampa Bay home, it's always easy to feel like a winner," said Schaphorst.
For more information about MaintenX and the variety of maintenance services they provide, visit http://www.maintenx.com.
ABOUT MAINTENX INTERNATIONAL:
MaintenX International is a fully licensed, facilities repair company. As one of the largest national self-performing facility maintenance and repair companies in the U.S., MaintenX has created a wide network of knowledgeable and professional technicians throughout the country. With their team of well-trained technicians, MaintenX self-performs and manages facility maintenance for their clients. In the event there is not a MaintenX technician in an area, the company has established a network of preferred vendor partners throughout the country for continued superior service for their clients. For more than 40 years, MaintenX has been expertly serving multi-location retail stores, restaurant chains and Fortune 500 companies nationwide.