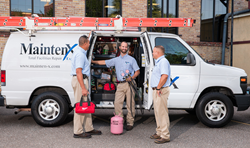 So much of modern life is made better, safer, and more enjoyable by refrigeration.
TAMPA, Fla. (PRWEB) June 24, 2020
When you think about the technological advances that have made modern society possible, what comes to mind? Perhaps cars, electricity or the internet? One technology we should not take for granted is refrigeration. MaintenX International, one of the nation's largest providers of self-performing facility maintenance, is excited to celebrate World Refrigeration Day on June 26 and bring awareness to this critical and life-saving technology.
"The refrigeration, air-conditioning and heat-pump sectors play a major role in our day-to-day lives," said Bill Schaphorst, MaintenX's VP of Business Development. "I am glad our knowledgeable technicians provide preventative and reactive maintenance services to ensure businesses have this critical resource."
MaintenX HVAC technicians often work alongside facility managers to craft strong preventative maintenance plans, customizing them to each unique system. This kind of maintenance may include inspecting suction and discharge lines in condensing units or checking a system's internal unit temperature.
When considering the types of businesses that use refrigeration and the consequences if these systems fail, it becomes obvious why this industry deserves to be celebrated. From vaccines that must be kept cool to save lives and foods that can be shipped further and are kept more hygienic by chilled shipping containers, to space travel made possible by temperature-controlled rockets to an all-day retail therapy session in an air-conditioned mall, refrigeration makes modern life possible – and pleasant.
"So much of modern life is made better, safer, and more enjoyable by refrigeration. It impacts so many aspects of our day-to-day life," said Schaphorst. "For example, our team members at our headquarters in Tampa enjoy the benefits of air conditioning all year, but especially during hot summer months in the Sunshine State."
Even with preventative maintenance, systems sometimes unexpectedly fail or need to be taken offline for repairs. If these situations arise, facility managers turn to MaintenX to provide emergency refrigeration trucks with large amounts of cold space. Similarly, if there's an unexpected or extended loss of power, MaintenX can help maintain business continuity with commercial generator and fuel services which can keep systems up and running until power service is restored.
To learn more about MaintenX and the full suite of curb-to-roof maintenance services they provide, visit http://www.maintenx.com.
ABOUT MAINTENX INTERNATIONAL:
MaintenX International is a fully licensed, facilities repair company. As one of the largest national self-performing facility maintenance and repair companies in the U.S., MaintenX has created a wide network of knowledgeable and professional technicians throughout the country. With their team of well-trained technicians, MaintenX self-performs and manages facility maintenance for their clients. In the event there is not a MaintenX technician in an area, the company has established a network of preferred vendor partners throughout the country for continued superior service for their clients. For more than 40 years, MaintenX has been expertly serving multi-location retail stores, restaurant chains and Fortune 500 companies nationwide.